On March 1, reveal an invigorating evening filled with green apparel and hints of promising starts, spring sprouting, motivated anticipation, and revitalized good fortune. March's First Friday Art Walk Sequim reveals GREEN as the theme color that represents fresh ideas, learning something new, youthful pursuits, nurturing natures, eternal good spirits, wellness, and generous assurance. You will discover newfangled art and imaginative folks supporting the option to decorate and dress in all shades of green while you stroll on the town with friends.
First Friday Art Walk Sequim is a fun and free self-guided tour of local art venues in Sequim on the First Friday of every month from 5 – 8 p.m. Visit online at SequimArtWalk.com as your resource to download and print your own map, find out what special events are happening, links, and how you can be part of art. Initiated in 2006, the First Friday Art Walk Sequim is an encouraging and educational arts event that is sponsored and produced by Renne Emiko Brock. Our mission is to create approachable and accessible art and cultural venues that encourage the community to connect and celebrate expression and diversity.
Special Events for March 1: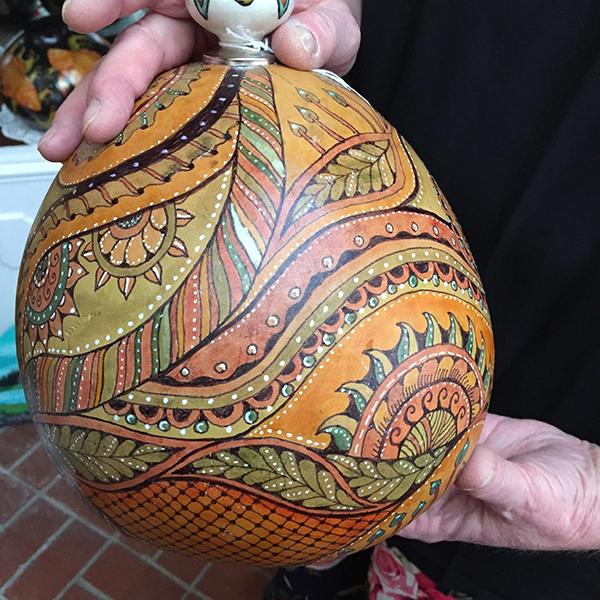 New Venue on the Art Walk! Please visit The Tangled Gourd at 861 East Alder St. where you will find creative gourds and polymer clay art! Chawn Vance uses Zentangle to create a unique art form used to create beautiful images from repetitive patterns. At first glance, a Zentangle may seem intricate and complex, yet its simplicity, fun and captivating nature become clear when you see how it is done. You can transfer the insight and success you feel from Zentangle to any life experience. 360-451-3238 thetangledgourd.com
Chawn Vance of The Tangled Gourd said this of her art practice, "For as long as I can remember I have had a love of art and creativity. As a young child my favorite pastime was to take my box of crayons outside, find the perfect rock and color it. I was a very shy and sensitive child, so being creative and imaginative and creating art allowed an outlet for me. Now over sixty years later, I've gone from coloring on rocks to painting on gourds. Several years ago, an artist friend introduced me to the art of Zentangle and my discovery of beautiful hard shell gourds have become my canvas of choice.
Over the years I have enjoyed working with many different mediums, including pen and ink, acrylic and watercolor, distress inks, colored pencil, paper crafting, mosaic and basketry, as well as teaching classes on polymer clay techniques. I am a member of the Pacific Northwest Polymer Clay Guild and have taken classes from world-renowned clay artists, including Donna Kato, Sarah Shriver, and Lindly Haunani.
I am a member of the American Gourd Society. I hold a degree in graphic design and advertising art from Seattle Central College and have taken many classes throughout my years as an artist.
I believe this gift of creativity has been given to me and I cannot imagine my life without art."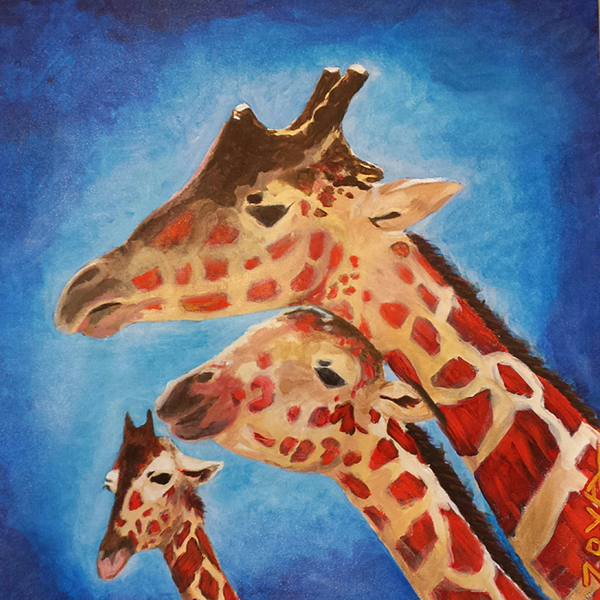 Tracy Wealth Management at 149 West Washington St. presents Shirley Rudolf and her art students are displaying their artwork in acrylics, watercolors, and oils. Those participating along with Shirley are Jerri Moore, Susan Zoya, Eva Hildago, and Barb Diekfuss.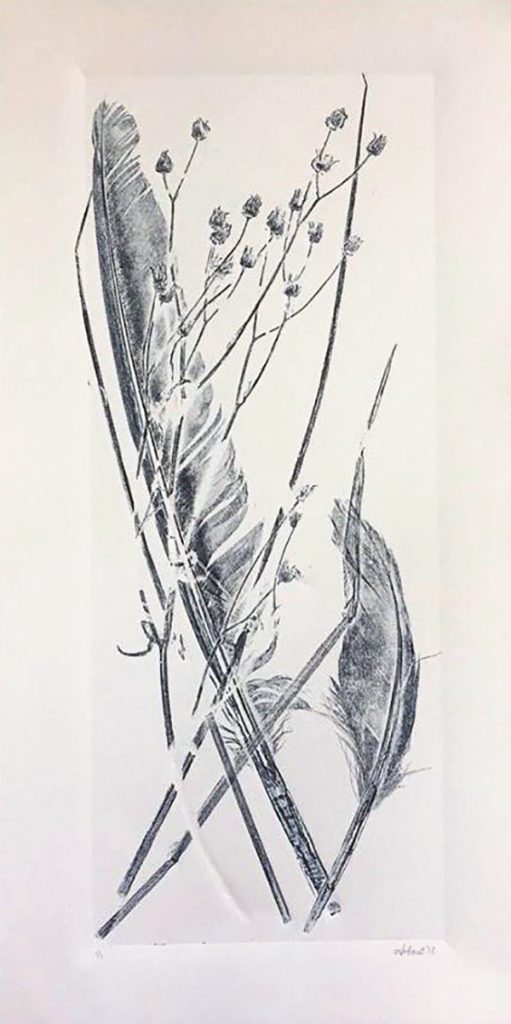 Wind Rose Cellars at 143 W Washington St. hosts artist Carolyn Votaw and live music with Hot Llamas. "Far Shores: New works by Carolyn Votaw" is an exhibition of monotype impressions of natural treasures collected from the far shores of the Olympic Peninsula and also features a selection of miniature linocut prints inspired by the Pacific Northwest. Hot Llamas' is a local bluegrass/newgrass band from a mixture of musicians from Sequim and Port Angeles. Partner live music, art, and award winning artfully crafted wines and appetizing tidbits at Wind Rose.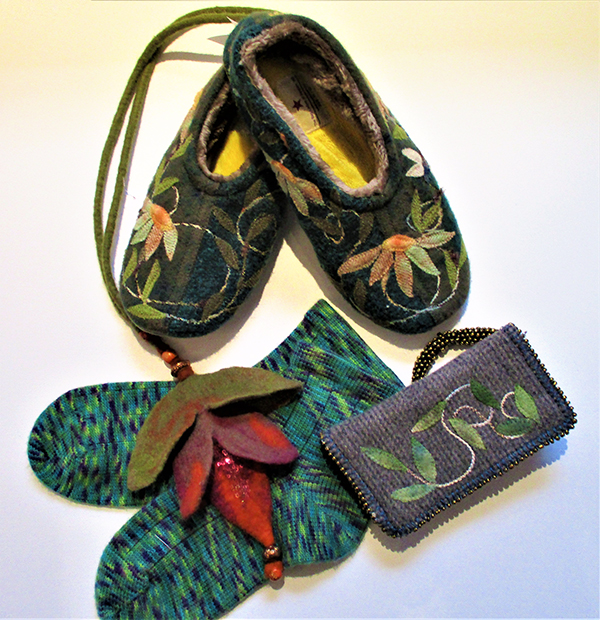 Meet "green" minded and local artists with innovative ideas at The Bag Ladies of Sequim at 161 W Washington St. filled with handcrafted works and artful up-cycled items.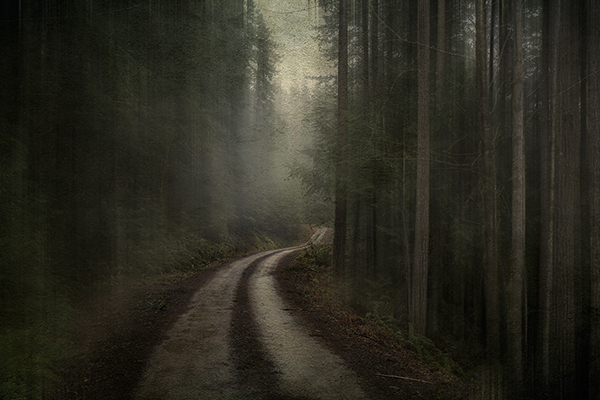 The Sequim Museum & Arts at 175 W Cedar St. features the work of local photographer, Phil Tauran, with the "The Reflections Series" a collection of images of places and portraits photographed in the South of France and on the Olympic Peninsula. The series "Reflections" is an open book on his travels through Olympic Peninsula and France. Fascinated by the pictorialist movement of the early twentieth century and also impressionism, he invites you to discover an unusual photograph. Born and raised in France, Phil was very early attracted by art in all its forms. Painter first, he dives pretty quickly in photography and more specifically black and white. For him "The image is a medium of truth and emotion, to capture and live the decisive moment. It's both a need and a way to communicate. "Phil is a professional photographer who has been based in Sequim since 2011.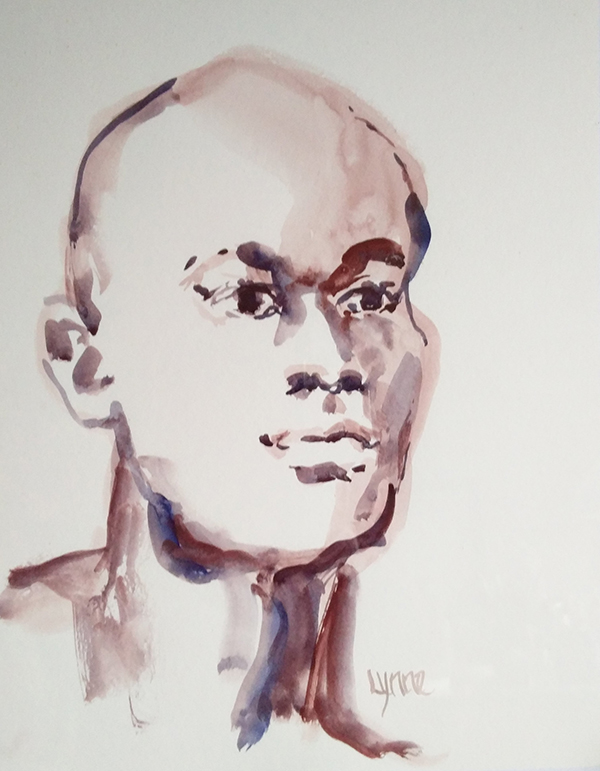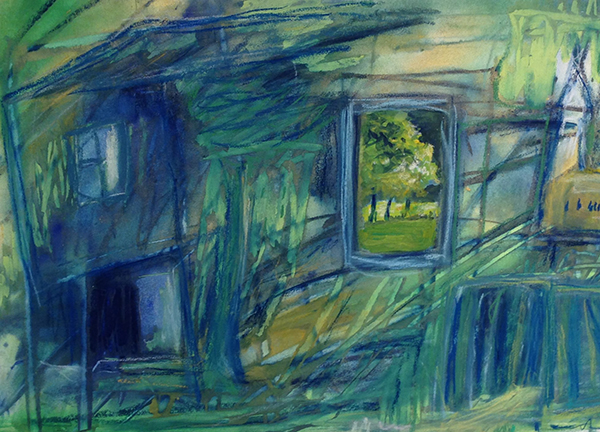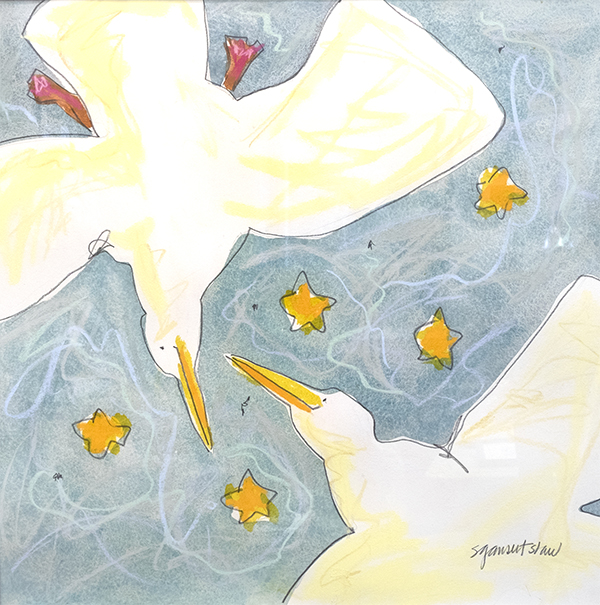 The "Barn Sisters", after an ongoing run at Rock Hollow Farm….the "Barn Sisterhood", the "Fabulous Five" and now ARTJAM are "hangin' out around town" for Sequim's First Friday Art Walk. Lynne Armstrong will open at Pacific Pantry at 229 S Sequim Ave. celebrating the respect and joy she finds in the faces of strangers, and the power and beauty of the everyday. Mary Franchini is a featured artist at The Blue Whole Gallery presenting "Old Things New Again" and the continuing exploration into new light. Susan Gansert Shaw is showing a mélange of work from stems and stacks to pears and pleasure in Alder Wood Bistro 139 W Alder St. and introducing the "joy birds" in the great hall!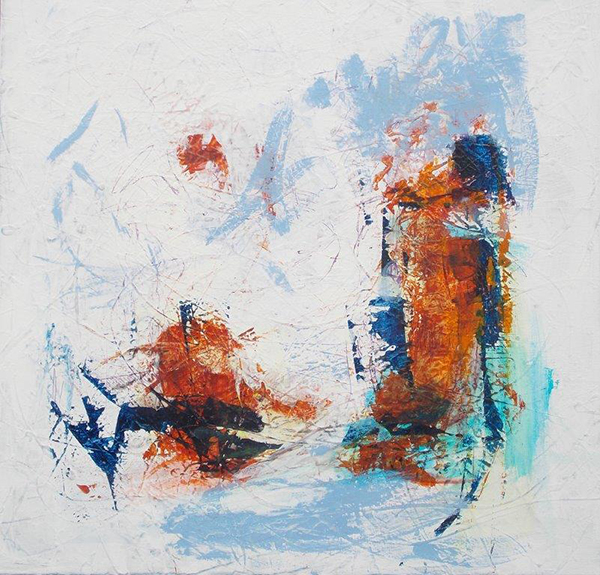 The Blue Whole Gallery at 129 W Washington St. featured artists Mary Franchini and Terry Grasteit for March. Mary and Terry are known for their continuous exploration of new while applying their expertise for renewal of the art in a new light. Mary Franchini states, "Old Things New Again! Here I go again with some of my old pieces. Why do I keep them? There must be something of merit—to me anyway in them. Most of the pieces in the show have been around for a while and most of them have been changed in some way, very recently. I guess it is a way to "clear out" what is not needed or should go somewhere else. I have mostly used pastel to add to them or change values. They are like time capsules —they show a progression of my learning and changing from their beginning to now. Hope you enjoy!" Terry Grasteit states, "My artist goal is to create paintings which are evocative, expressive and colorful. My preferred artistic genre is abstract expressionism as it provides me with the widest range of expressive options. My approach to painting is to create a context around some feeling, subject, shapes or color set that has caught my interest and imagination. My education in art and psychology provides a framework for introspective exploration and painting is my expression of these musings. Using abstraction and the elements of the painting, I try to create a visual expression which invites a viewer to participate in the creative process with me, using their own imagination and reflections. A painting's abstract structure, being objectively nonspecific, allows visual elements to combine spatial elements, creating form and relationships which can be unique to the viewer. Art in this context emulates life, changeable and always evolving as the viewer's personal visual pallet grows, creating a virtual sea of possibilities."
The City Arts Advisory Commission (CAAC) presents "Jam Session – Get Your Mind Off Wintertime" is at the Sequim Civic Center at 152 W. Cedar Street from 5:00 to 7:30 PM during the Art Walk. This is not an Open Mic event but a True Jam meaning that we will all be playing the same song as a group. This first jam will feature folk music and early rock, with many songs played in G, so all levels of musicians can join in the fun. The music with lyrics and chords will be provided. Any acoustical instruments are welcome, and if nothing else, bring your voice and a tambourine. So pack up your fiddle, harmonica, guitar or other merry music maker and let's get our minds off wintertime and make some fun! The CAAC also features the "Go Figure" at the Sequim Civic Center including artists Ron Reynolds, Priscilla Patterson, Randy Radock, Marilynn Evans, Stacey Marin-Lopez, Gary Bullock, Gail McLain, Mark Kennedy, Ross Brown, Sharman Owings, June Echternkamp, Eileen Gieser, Mary Marsh, Mary Franchini, Lynne Armstrong, Pamela Dick, Curposney Gdane, Jeannine Chappell, Susan Martin Spar, David Johannessohn, and Steve Jones.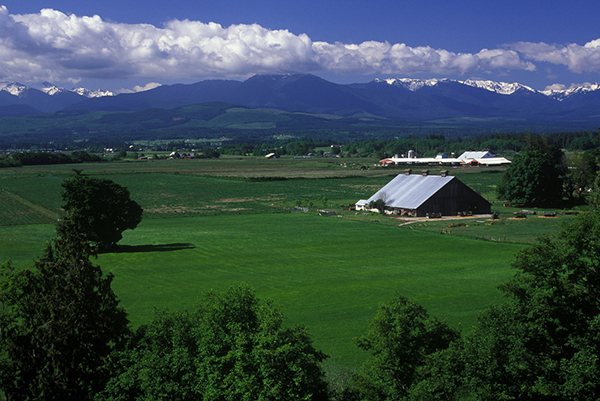 Forage Gifts & Northwest Treasures at 121 W Washington St. invites you to come spend an evening with Jan and Kay Kepley of Resonance Cards and Natural Light Photography. Jan has photographed the beauty of nature and flora as we move into spring. View his work and notecards for those soft natural textures of nature.
Sequim Habitat Boutique Store at 213 E Washington St. has featured artist Natalie Martin who does PourSipPaint events.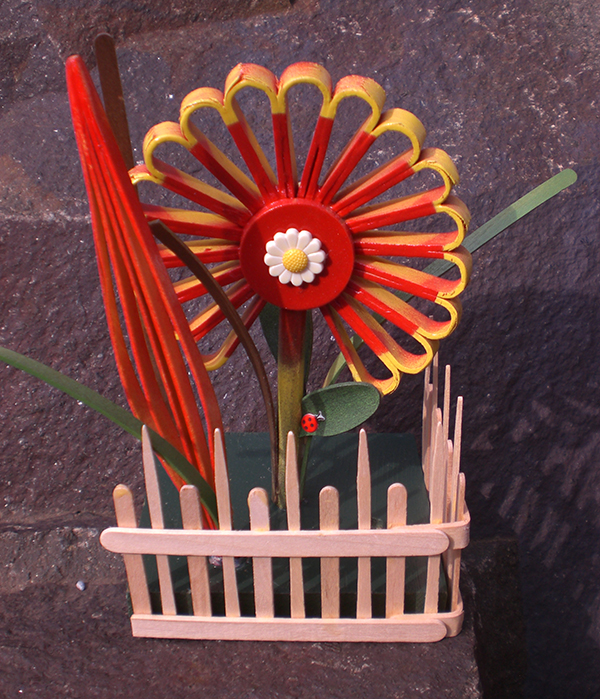 Brad Griffith of Sequim Community Makerspace at 311 W Turnhere Road invites you to please come and enjoy our space for creating, discovery and inventing. He states, "After the winter dig out we have surfaced to continue sharing my 12 years of wood bending skills with the Peninsula. I make and share the skills to make art, crafts, tools, gifts and small scale engineering projects for education."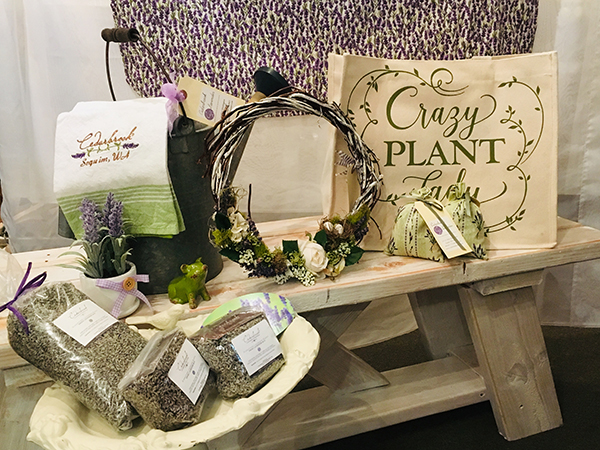 Cedarbrook Lavender at 134 1/2 W Washington St. is showcasing their theme of "All Things Spring" of handmade gifts and lavender.
Olympic Theater Arts at 414 N Sequim Ave. presents Arthur Miller's "Death of a Salesman" directed by Merv Wingard at 7:30 PM. Discover how Willy Loman's quest for the "American Dream" kept him blind to the people who truly loved him. A thrilling work of deep and revealing beauty that remains one of the most profound classic dramas of the American theatre.
Rainshadow Café at 157 W Cedar presents Stephanie Doenges, the lead singer and rhythm guitarist for "Bread & Gravy", and Jason Taylor as the bassist. Together, they make magical harmonies. Having played together in the larger band for many years, this will be their first duo show. They will be performing Americana, Blues, Soul and more.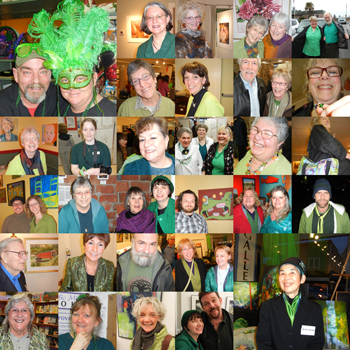 To create inclusion between venues, artists, and audience, everyone is encouraged to participate in the Art Walk's monthly themes as a fun community activity in any creative form they wish to express it. January is silver, February is red, March is green, April is pink, May is aqua, June is white, July is purple, August is yellow, September is blue, October is orange, November is brown, and December is gold.
Want to participate as a venue or artist on the Official First Friday Art Walk Sequim Map, Listing, and Website, please contact Renne Emiko Brock at 360-460-3023 or renne@uniqueasyou.com If you are an artist of any media on the Art Walk, please get your information to Renne for publicity and opportunities.
Please join our Facebook Page: http://www.facebook.com/sequimartwalk