April 5 Art Walk Color Theme is PINK! Spring flaunts hope and high spirits with the return of bright flowers and fluttering feathered friends as April's First Friday Art Walk Sequim bursts with PINK as the theme color that represents congenial care, productive promises, encouragement, sweet delight, supportive strength, and kind, comforting assurance. You will find works of art and folks supporting the option to dress in all spring shades of pink from strong burgundy to soft blush for the evening out on the town. You might see some pink flamingos too!
First Friday Art Walk Sequim is a fun and free self-guided tour of local art venues in Sequim on the First Friday of every month from 5 – 8 p.m. Visit online at SequimArtWalk.com as your resource to download and print your own map, find out what special events are happening, links, and how you can be part of art. Initiated in 2006, the First Friday Art Walk Sequim is an encouraging and educational arts event that is sponsored and produced by Renne Emiko Brock. Our mission is to create approachable and accessible art and cultural venues that encourage the community to connect and celebrate expression and diversity.
Special events for April 5: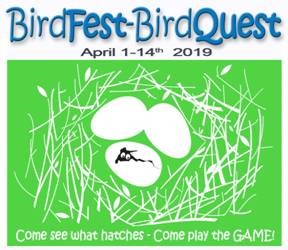 It's time for BirdFest BirdQuest! You can play BirdFest-BirdQuest which runs April 1 to 14 and is sponsored by Sequim-Dungeness Chamber of Commerce Merchants' Group. During the First Friday Art Walk, you can find these fine art feathered friends at several locations. BirdFest-BirdQuest: a fun free game for everyone that brings together high school students, merchants and the community to support the Olympic Bird Festival and encourages shopping local. Find and match the ceramic bird sculptures created by Sequim High School ceramics students to the business where they are hidden. Game cards available at and can be returned to each of the participating merchants and the Sequim Chamber of Commerce Visitors Center at 1192 E Washington St. The Grand Prize is a Sequim Bay Cruise with "Salty Girls Charters" for up to 6 people, plus one year membership to Olympic Peninsula Audubon. The Grand Prize Drawing and People's Choice Awards will be on April 23 at 12:00 PM during the Sequim-Dungeness Valley Chamber's Luncheon at Guy Cole Center at 292 N Blake Ave. in Carrie Blake Community Park.
* Please note BirdQuest locations that are open during the April 5 First Friday Art Walk Sequim. BirdQuest sculpture locations include The Bag Ladies of Sequim* at 161 W Washington St., Blue Whole Gallery* at 129 W Washington St., Cedarbrook Herb and Lavender* at 134 ½ W Washington St., Dungeness Kids Co.* at 163 W Washington St., Dungeness River Audubon Center at 2151 W Hendrickson Road, Fieldnotes* at 123 E Washington St., First Federal* at 333 N. Sequim Ave., Forage Gifts & NW Treasures* at 121 W Washington St., Full Moon Candle at 609 W Washington St. #13, Jose's Famous Salsa* at 126 E Washington St., Mariner Café* at 609 W Washington St. #1, Pacific Pantry Artisan Deli* at 229 S Sequim Ave., Purple Haze Lavender* at 127 W Washington St., Rainshadow Café* at 157 W. Cedar St., Salty Girls Sequim Seafood Co.* at 210 W Washington St., Sequim Habitat Boutique Store* at 213 E Washington St., Sequim Spice & Tea* at 139 W Washington St., Solar City Boutique & Retreat* at 135 W Washington St., Sweet Spot Frozen Yogurt* at 609 W Washington St. #11, and That Takes The Cake* at 171 W Washington St. After April 14 – April 27, the Sequim High School students' ceramic bird sculptures will be on display at the Dungeness River Audubon Center in Railroad Bridge Park 2151 W Hendrickson Road, Sequim, WA. DungenessRiverCenter.org Details about the Olympic BirdFest are at OlympicBirdFest.org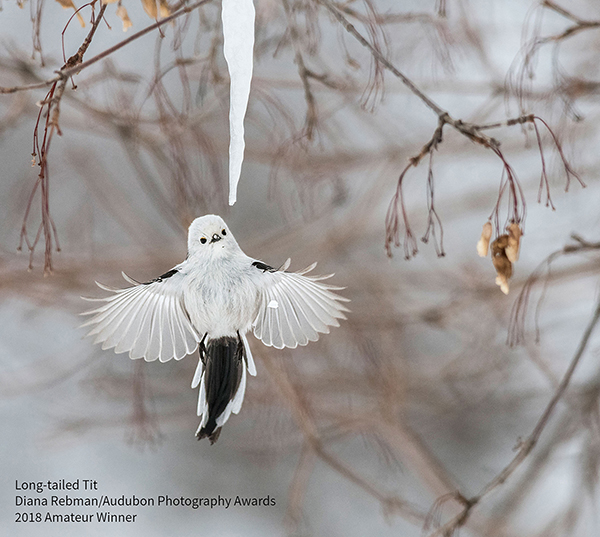 The City of Sequim City Arts Advisory Commission is partnering with the Dungeness River Audubon Center to host the 2018 Audubon Society's Best Avian Photography. The photographs will be on exhibit at the Sequim Civic Center at 152 West Cedar Street. The winning photographers and their stunning photographs were selected from more than 8,000 entries submitted by photographers from all 50 states, Washington D.C., and 10 Canadian provinces. This year's exquisite photographs celebrate the splendor of many bird species protected under the 100-year-old Migratory Bird Treaty Act (MBTA). Bonnie Block, the 2016 Grand Prize Winner with an Eagle and Great Blue Heron taken in Seabeck Washington Arboretum in Seattle, will be in attendance on during the First Friday Art Walk Sequim for the exhibition opening to talk about each photo in the show.
About the National Audubon Society: The National Audubon Society protects birds and the places they need, today and tomorrow, throughout the Americas using science, advocacy, education and on-the-ground conservation. Audubon's state programs, nature centers, chapters and partners have an unparalleled wingspan that reaches millions of people each year to inform, inspire and unite diverse communities in conservation action. Since 1905, Audubon's vision has been a world in which people and wildlife thrive. Audubon is a nonprofit conservation organization. Learn more at audubon.org and @audubonsociety. For more information please contact the Dungeness River Audubon Center at 360-681-4076.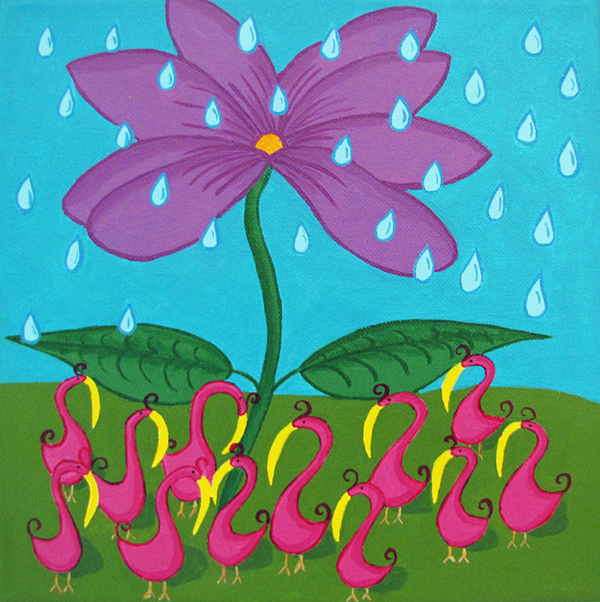 Forage Gifts & Northwest Treasures at 121 W Washington St. is featuring artist Jean Wyatt with her imaginative art that includes acrylic paintings, colored pencil art, hand-crafted journals, and much more! Jean says of her art, "I like to create art that makes me smile and happy when I look at it. It is meant to be colorful, fun, whimsical, unusual and often a little off-beat. My mission is to create art that makes me smile, and I hope makes you smile as well."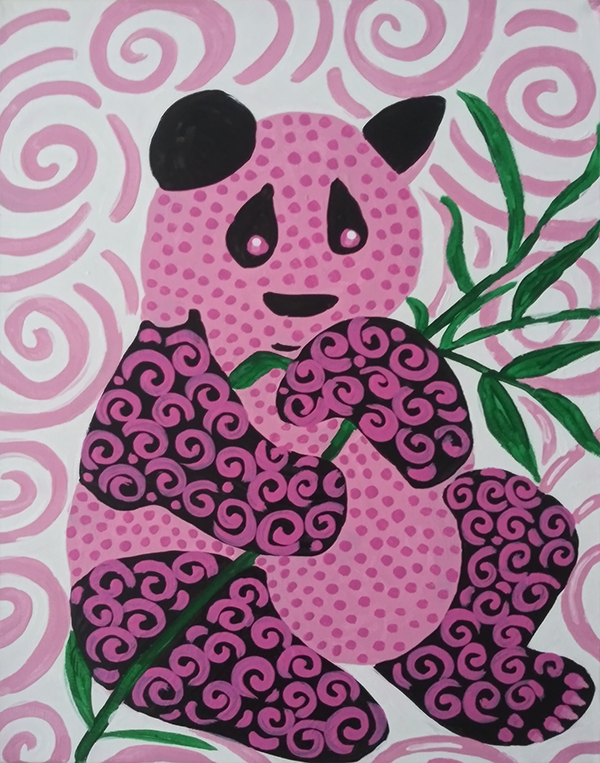 Returning to the Sequim Art Walk! Pondicherri at 119 E Washington St. will be showcasing painter Tami Wall along with carefully designed, hand crafted textiles for home and fashion in their curated boutique.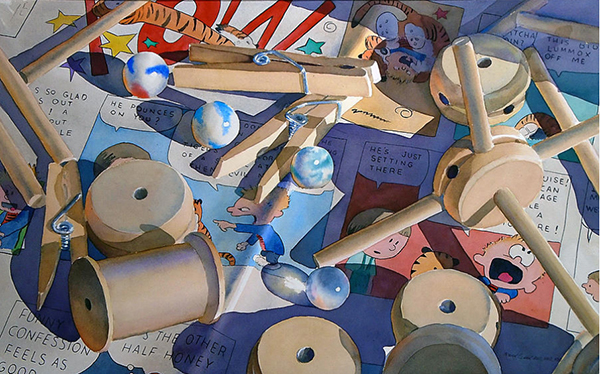 The Sequim Museum & Arts at 175 W Cedar St. will host the colorful and detailed solo exhibition of local watercolorist Patrick D. Clark called "Memories". Patrick shares, "In 2013, my wife, Nancy and I moved to Sequim from Hutchinson, KS. I am a dedicated purest watercolorist. I graduated from the University of KS in 1965 and started work as an aeronautical engineer for Boeing in Seattle. I started exhibiting my artwork at street fairs in 1983 until 2014 throughout the USA. I am a member of the Kansas Watercolor Society, the American Watercolor Society and the American Watercolor Society. I hope you will enjoy viewing my paintings "Memories"."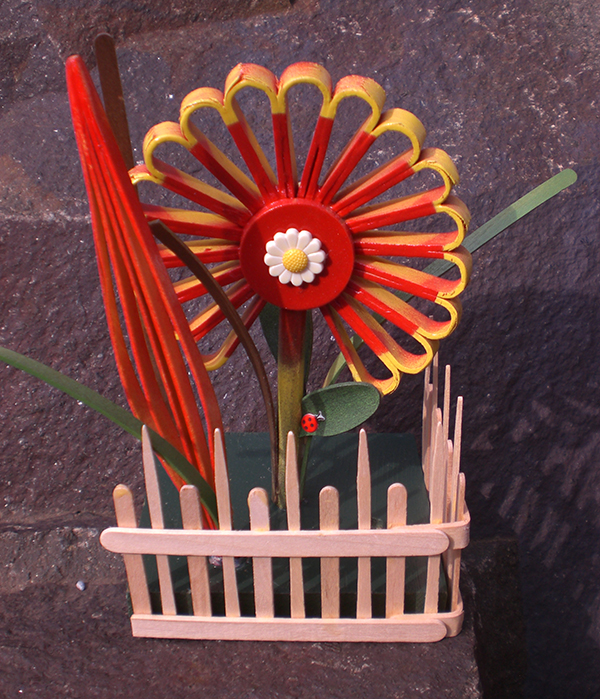 Brad Griffith of Sequim Community Makerspace at 311 W Turnhere Road invites you to please come and enjoy our space for creating, discovery and inventing. He states, "After the winter dig out we have surfaced to continue sharing my 12 years of wood bending skills with the Peninsula. I make and share the skills to make art, crafts, tools, gifts and small scale engineering projects for education." Sequim Community Makerspace is across the street from the Sequim Middle School and can be accessed that way as well.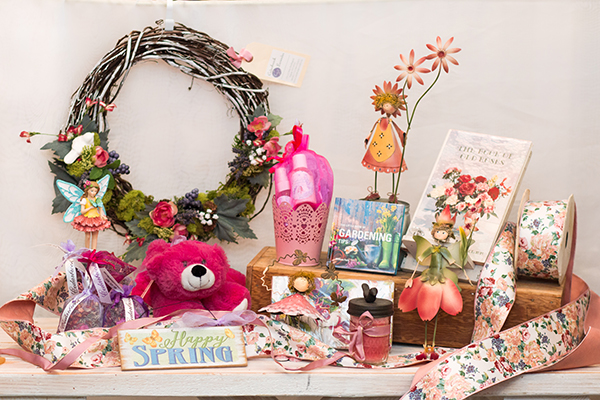 Cedarbrook Lavender at 134 1/2 W Washington St. is showcasing their theme of "In the Pink!" with handmade gifts and uplifting lavender.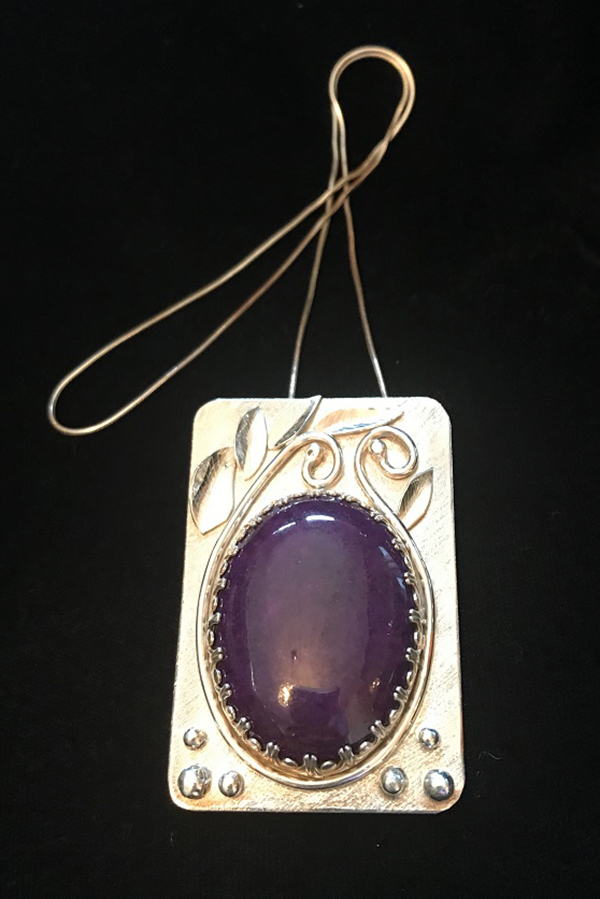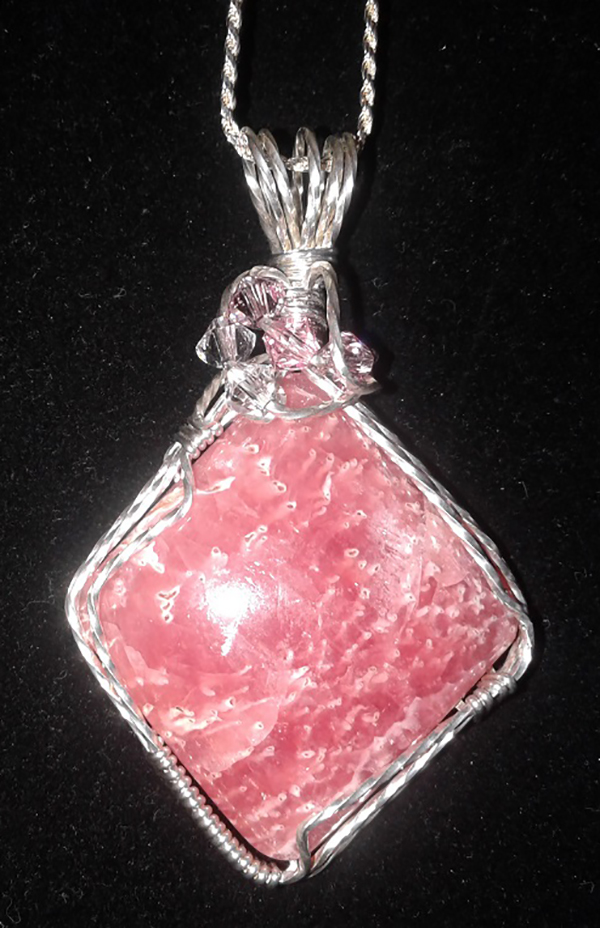 The "Don't Fool with Mother Nature" exhibition at the Blue Whole Gallery at 129 W Washington St. featured artists Lucinda Hayes, Debbie Patapoff, and Kathy Schreiner. Lucinda will curate a front window with her rich collection of paintings, presenting her gift of design and polished technical skills. Debbie and Kathy will curate another window with their unique fine art jewelry, inviting the viewers to the world beyond the contemporary setting of wearable art. Native Californian, Lucinda Hayes, captures life's enthusiasm and deep emotion in each work of art she creates. Lucinda believes art is an adventure and each painting has a personality of its own. Allowing the character of a painting to create a feeling, she uses vibrant colors and dramatic light, or perhaps soft subtle tones to tell the story. Although working primarily in watercolor, Lucinda is also established as a custom wall mural artist. Debbie Patapoff states, "Since coming to Sequim, WA, my jewelry fabrication has evolved to the fine art. I was born in Nebraska, lived in Europe and Okinawa, and many states in between Florida and Alaska. I have been creating beaded wearable art for 30 years and started Silverwork over 16 years ago. My passion is to make one of a kind jewelry that evoke emotion and that aesthetically appeal to people who are looking for unique wearable art." Kathy Schreiner shares, "I have been blessed to live in two of the most beautiful places created by Mother Nature – Hawaii and the Olympic Peninsula. Surrounded by beauty I clearly understand the statement – "Don't fool with Mother Nature!" I have adopted this as a good policy to follow when creating and designing my individual jewelry pieces. My goal is to take the many beautiful stones created by Mother Nature and enhance their beauty in my designs."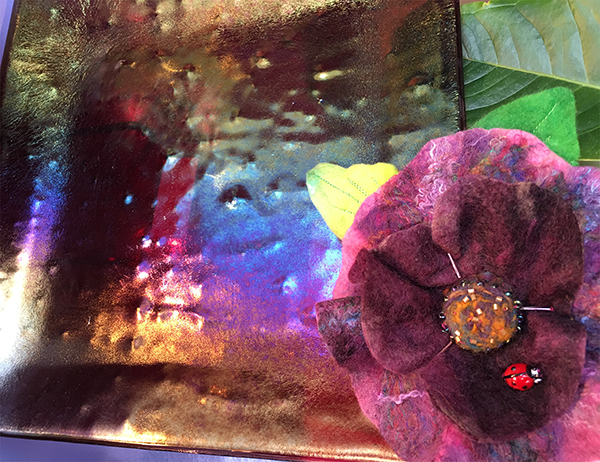 Pinks and all colors are blooming from creations made by local artists at The Bag Ladies of Sequim at 161 W Washington St. filled with handcrafted works and artful up-cycled items.
Rainshadow Café at 157 W Cedar St. presents live music with Donna Rankin and Mary Clock. They met a couple of years ago and almost immediately realized they were "song sisters" who shared a passion for music and all that it encompasses. They believe that music is the language of the soul and has the ability to touch something deep within all people. Music often gives voice to experiences and feelings that we are unable to express in our own words and yet feel intensely. Their genre would best be categorized as Folk Americana as it has its roots in folk, rock, country, gospel and more. The most striking aspect of their music is their harmonic blends, which can be anywhere from hauntingly beautiful to delightfully sweet. They feel their meeting was destined to be. Together they enjoy exploring music and tend to be drawn to music that speaks of both the highs and lows of the human condition. They enjoy singing of love and joy but also of the inevitable times of suffering that all humans experience. It is their desire that their music will inspire a celebration of life in all of its facets.
Two of the "Barn Sisters" from the ongoing run at Rock Hollow Farm and ARTJAM are "hangin' out around town" for Sequim's First Friday Art Walk. Susan Gansert Shaw is showing a mélange of work from stems and stacks to pears and pleasure in Alder Wood Bistro 139 W Alder St. Susan encourages you to seek out 'Sandhill Skipper and Flying Cat Ballet' piece. Lynne Armstrong is at Pacific Pantry at 229 S Sequim Ave. celebrating the respect and joy she finds in the faces of strangers, and the power and beauty of the everyday.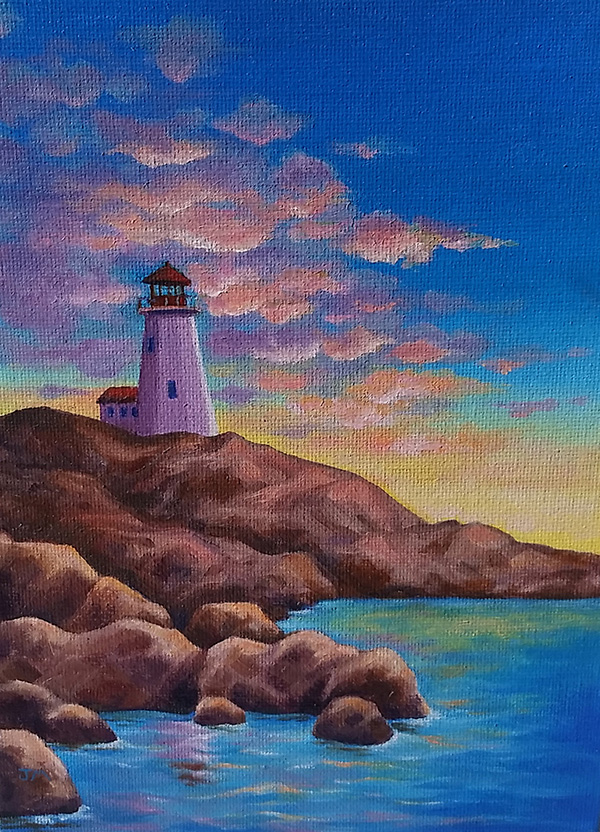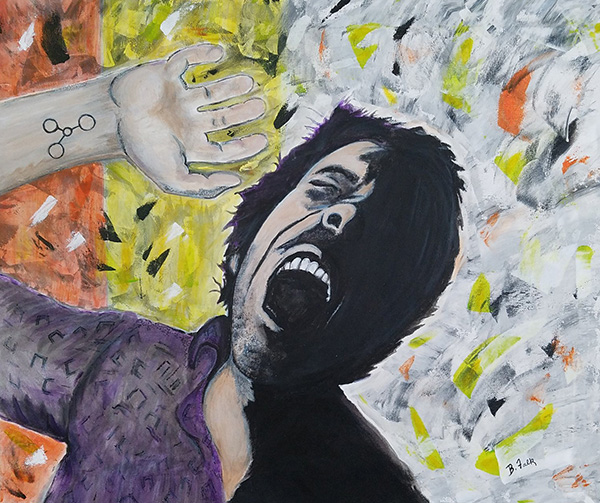 Tracy Wealth Management at 149 W Washington St. presents Shirley Rudolf and her art students are displaying their artwork in acrylics, watercolors, and oils. Artist participating along with Shirley are Barb Diekfuss, Eva Hildago, Roger Huntley, Jerri Moore, and Susan Zoya.
Visit The Tangled Gourd at 861 E Alder St. where you will find creative gourds and polymer clay art by Chawn Vance. Her detailed and mesmerizing detailed work uses Zentangle to create a unique art form used to create beautiful images from repetitive patterns.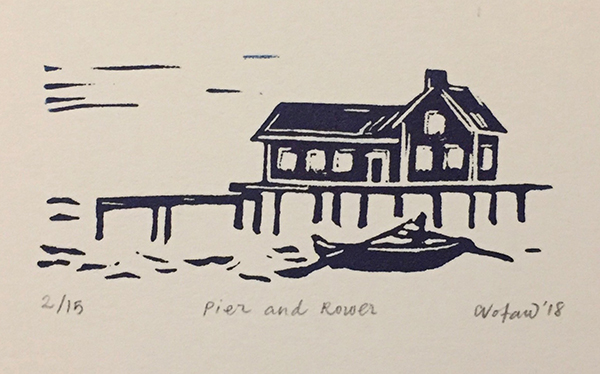 Wind Rose Cellars at 143 W Washington St. hosts artist Carolyn Votaw and live music with Bread and Gravy. "Far Shores: New works by Carolyn Votaw" is an exhibition of monotype impressions of natural treasures collected from the far shores of the Olympic Peninsula and also features a selection of miniature linocut prints inspired by the Pacific Northwest through May. Bread and Gravy are husband and wife team. They will be performing as a duo with a mixture of songs from the 70-90s. Partner live music, art, and award winning artfully crafted wines and appetizing tidbits at Wind Rose.
Olympic Theatre Arts at 414 N Sequim Avenue features Russian born actor and musician, Dmitri Gerasimenko in non-verbal performance art and Russian poetry and music at 5:30 PM in the Gathering Hall. First Friday at Olympic Theatre Arts is always free to the public where the snack and beverage bar will be open. Dmitri grew up in St. Petersburg, Russian, one of the great cultural capitals of the world. By age ten, he was participating in the professional theater world there. He went on to graduate at a master's level from the prestigious St. Petersburg Theater Academy where he trained with a master who holds the National Treasure award in Russia. After sixteen busy years as a veteran of radio and television in St. Petersburg, he came to America, where he received a work visa reserved for those of great cultural significance. In America, Dmitri quickly learned to use his tremendous physical acting skills to overcome his deficiencies in English. He worked with Interact Theater in Minneapolis, and performed individual concerts of poetry and singing for such organizations. Whether communicating in English, Russian or body language, Dmitri gets his message across. He now lives in Port Angeles with his wife, Jan Adams and his 11-year old son Oleg.
The Peninsula Taproom at 210 W. Washington St., Suite 4 offers up springtime brews during the Sequim Art Walk.
Want to participate as a venue or artist on the Official First Friday Art Walk Sequim Map, Listing, and Website, please contact Renne Emiko Brock at 360-460-3023 or renne@uniqueasyou.com If you are an artist of any media, please get your information to Renne for publicity and opportunities. Thank you for your support!
To create inclusion between venues, artists, and audience, everyone is encouraged to participate in the Art Walk's monthly themes as a fun community activity in any creative form they wish to express it. January is silver, February is red, March is green, April is pink, May is aqua, June is white, July is purple, August is yellow, September is blue, October is orange, November is brown, and December is gold.
Please join our Facebook Page at facebook.com/sequimartwalk