November 5 Art Walk Color Theme is BROWN! Brown is the color of warm acceptance, the turning of the leaves, fall harvest and abundance, and seasonal spicy treats. Brown represents solid assemblies, family trees with deep roots and supportive branches, community minded activities, comforting homesteads, and steadfast alliances. You will find works of art and folks supporting the option to dress in shades of bountiful brown or representations of warm hearth and harvest as they enjoy an evening on the town with down to earth friends and family.
First Friday Art Walk Sequim is a fun and free self-guided tour of local art venues in Sequim on the First Friday of every month from 5:00 – 8:00 p.m. Visit online at SequimArtWalk.com as your resource to download and print your own map, find out what special events are happening, links, and how you can be part of art.
Initiated in 2006, the First Friday Art Walk Sequim is an encouraging and educational arts event that is sponsored and produced by Renne Emiko Brock. Our mission is to create approachable and accessible art and cultural venues that encourage the community to connect and celebrate expression and diversity.
The First Friday Art Walk Sequim has returned while respecting the Covid health and wellness guidelines of masks, social distancing, and limited capacity. Please enjoy the Arts and Culture of Sequim safely. We are starting out small. Not all venues are open fully with the slow start of the return of the evening activities of Sequim Art Walk, so please visit them when they are open.
Special Events for November 5: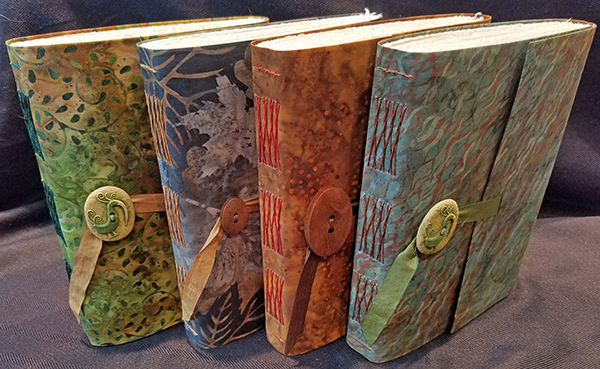 Returning to the Sequim Art Walk, discover the new location for the Pacific Mist store at 122 W. Washington! Pacific Mist welcomes Jean Wyatt, a Sequim artist who loves color and has a whimsical/story like style. She envisions everyday things like domestic living, classic trucks, nature and sports being done by birds, cats and other animals. Many of the paintings are illustration-like in that there is a story that can be told. Others are full of color and fun flowers, trees and characters. She likes to create art that makes her smile and happy when looked at. It is meant to be colorful, fun, whimsical, unusual and often a little off beat. See her new hand-painted plant stakes. In recent years Jean has become immersed in the making of books, journals and boxes. These journals are covered with decorative papers or fabrics and filled with hand-torn paper to capture the thoughts or drawings of its owner.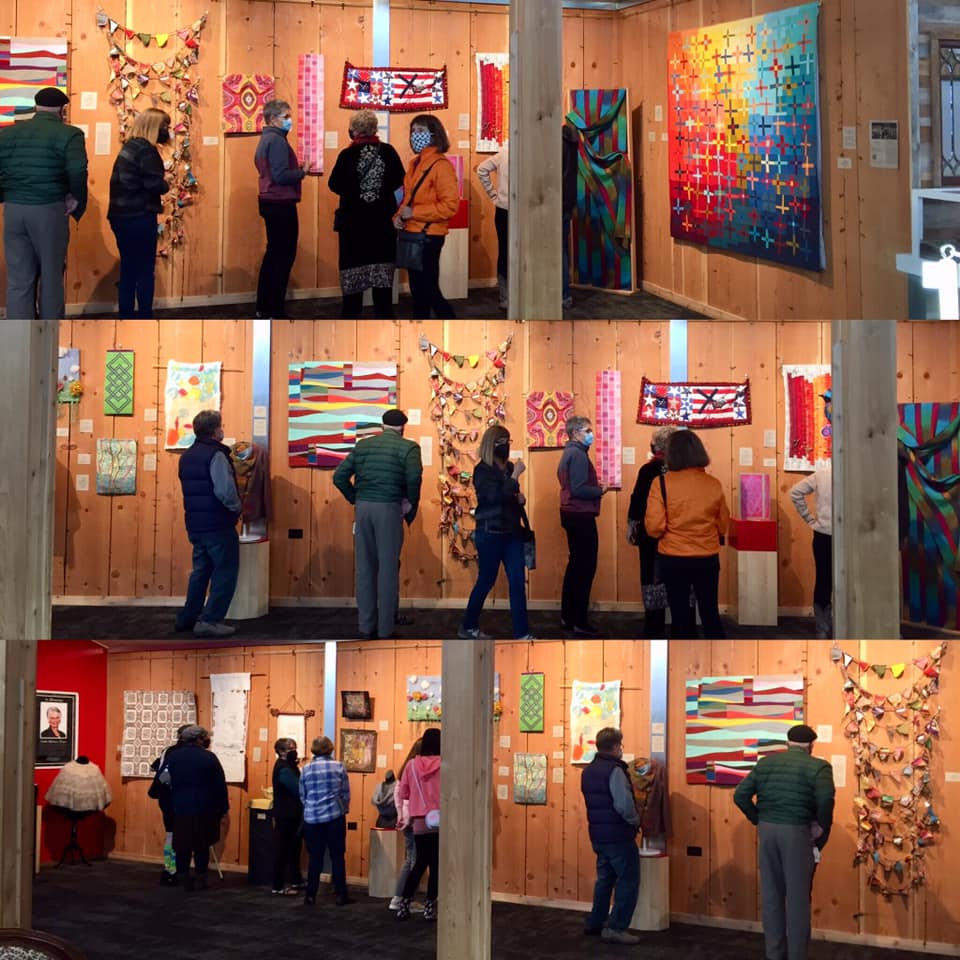 As part of the North Olympic Fiber Arts Festival, enjoy the "Bumblebunching – Warped, Twisted, & Imperfect" exhibition and fiber arts demonstrations at the Sequim Museum & Arts at 544 N Sequim Avenue. "Bumblebunching" exhibition artists include Lynn Baritelle, Honey Bliss, Renne Emiko Brock, Donna Lee Dowdney, Liisa Fagerlund, Susanne Foster, Peggy St. George, Leslie Hoex, Estelle Jackson, Susan Kroll, Jacki Moseley, Kelly Ruth, Susan Savage, Gloria Skovronsky, Marla Varner, and Jean Wyatt.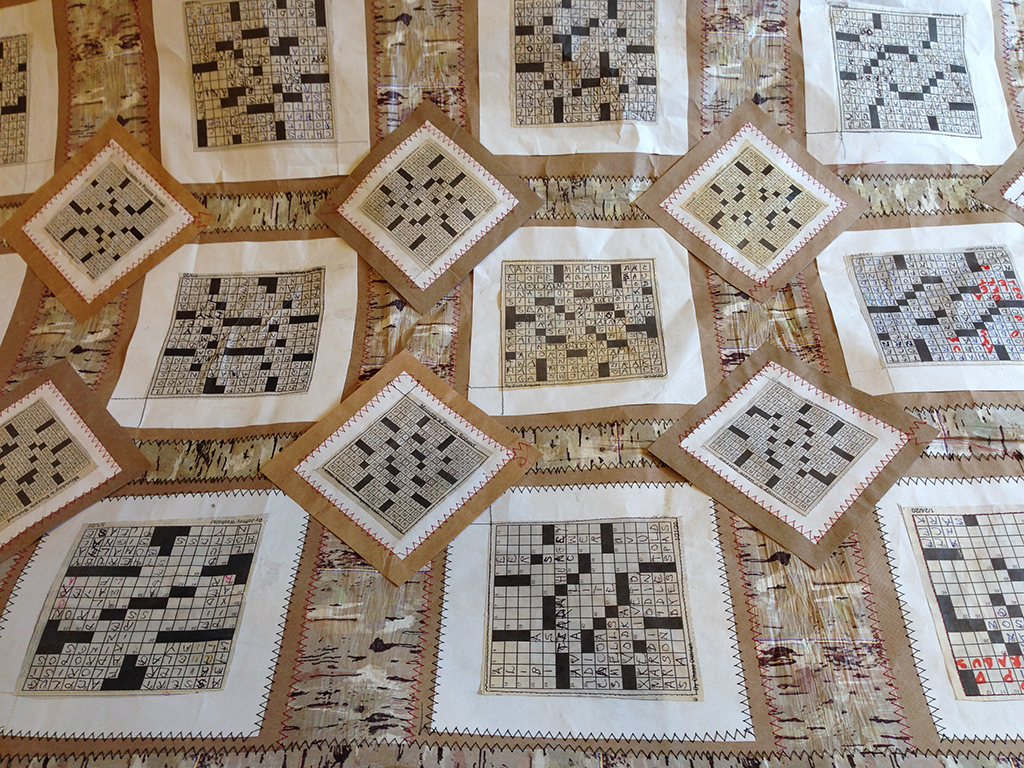 This juried fiber arts exhibition celebrating happy accidents, successful satisfaction in Wabi-Sabi, and unintended artistic experiences that often lead to evolutionary forms of expression and joyful acceptance that experimentation is part of one's art practice. Fiber Artists yearn for thorough planning and tight intention, gratification in challenging practice, and ritual appreciation and amusement in transience and incomplete mistakes. Bumblebunching are the exuberant jumbled loops created by the bobbin when stitching has improper tension while machine sewing.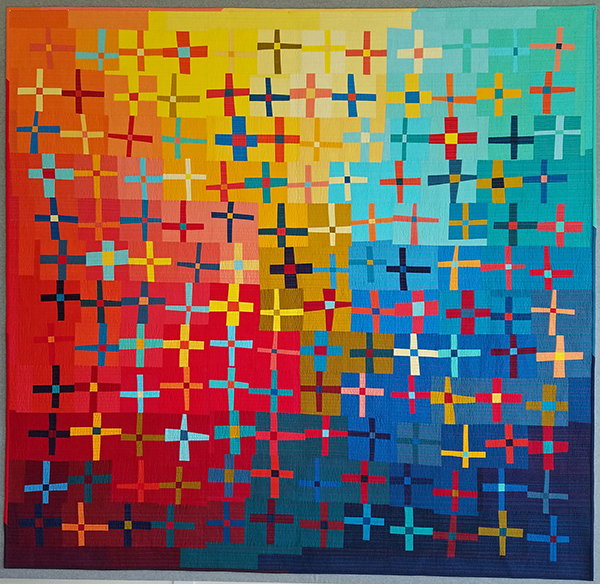 Please be sure to see the multi-award winning and world traveling "At the Junction" by Sequim artist Marla Varner. This exhibition is the first time this honored quilt has been on display locally.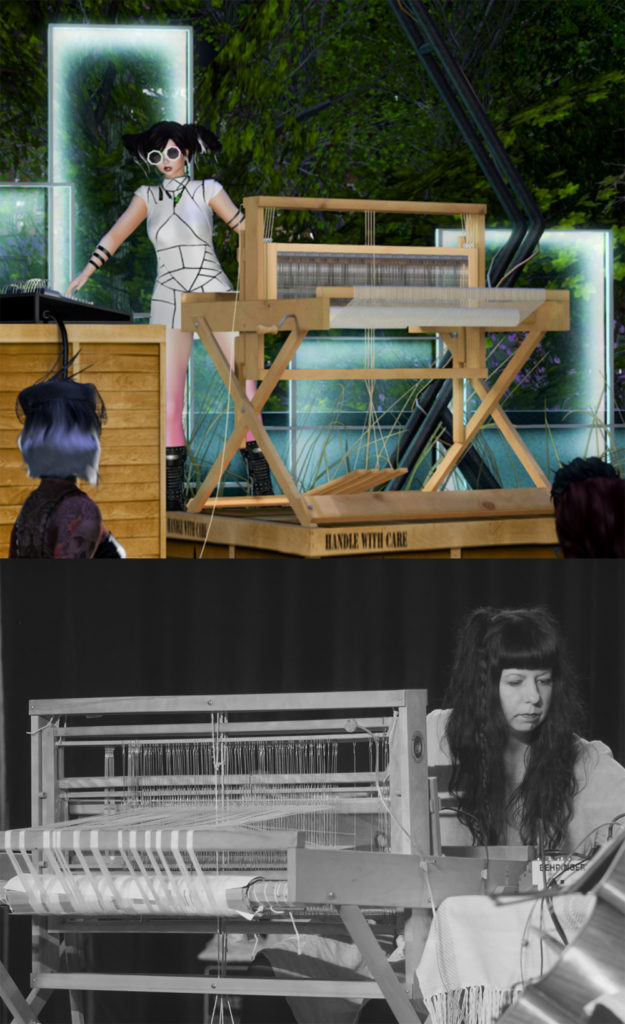 Also, explore "Chrysalis Circuitry" by Canadian fiber and sound artist Kelly Ruth. You scan a QR Code to access her YouTube music video filmed in the virtual world of Second Life. The music composition using sounds from contact mics and effects pedals on a weaving loom and spinning wheel in collaboration with Saxophone player Allison Balcetis.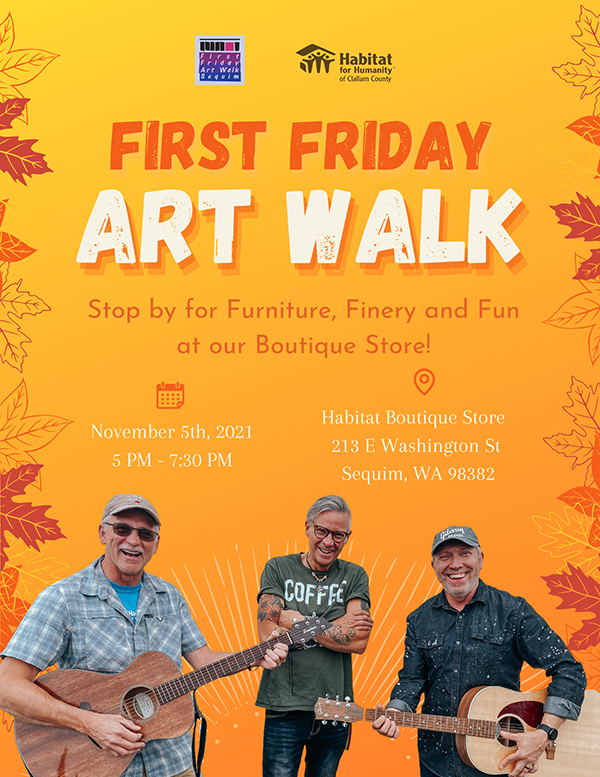 From 5:00 to 7:30 PM, Habitat for Humanity of Clallam County's Sequim Habitat Boutique Store at 213 E Washington St. has Live Music by The OG and featuring paintings by local artist and Sequim Art Council member, Craig Robinson!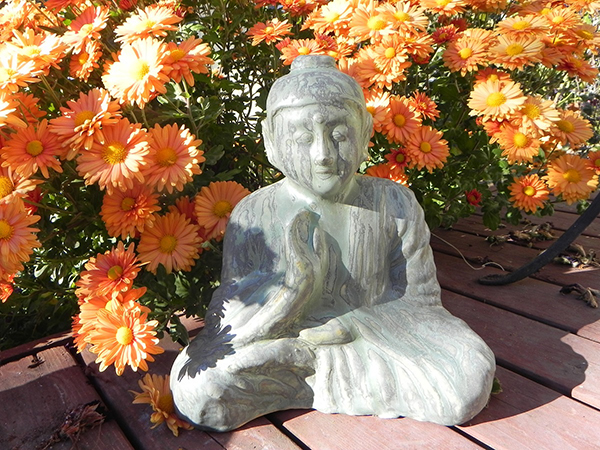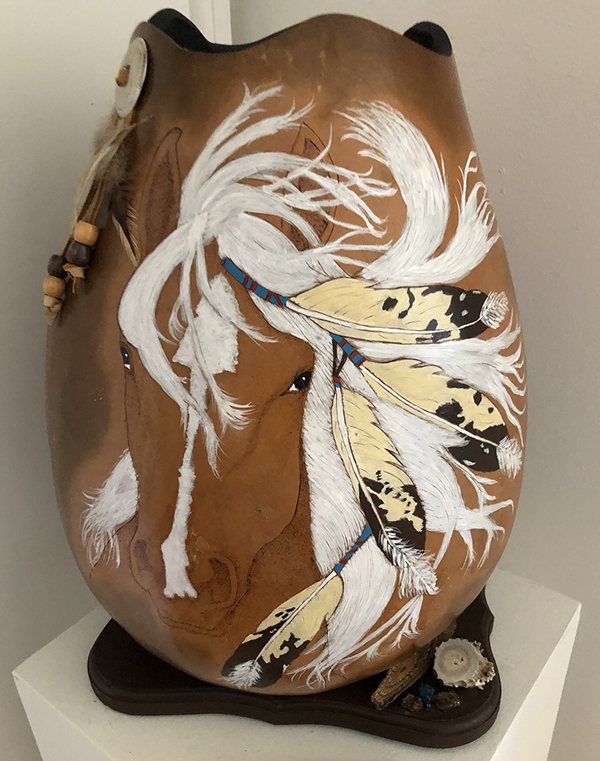 Blue Whole Gallery at 129 W Washington St. features "Gentle and Tranquil" with artists Carol Janda and Debbie Cain. Together, they present the gentle and tranquil world filled with the magic of nature. Carol Janda, potter and painter, is known for her continuous exploration of approach to the subject and technical challenge. Debbie Cain, the gourd artist, and teacher, incorporates her life-long encounters with nature and people into her art. Debbie Cain shares, "When I did my first gourd about 20 years ago, I was totally captivated and very excited to explore the possibilities on this new 3D canvas. I began with wood burning and then was introduced to carving. I use both techniques in most of my work today. To produce the overall effect, I embellish my work with natural pine needles, gemstones, glass and fiber coiling. I have also taken great inspiration from Southwest American Indian motifs. My work has been published in the book "Antler Art for Baskets and Gourds". I have received awards from various venues including the Arizona Gourd Society in Casa Grande, AZ." Carol Janda states, "Pottery and painting seem to have come naturally. Moving back and forth calls for new ideas and problems to solve. Designing work pottery, paint, glaze, watercolor or oil, keeps me thinking and creative. Art has been a lifetime blessing from childhood to my years at Glacier Bay, Alaska during long dark winters and now during these stay-at-home days."
Wind Rose Cellars at 143 W Washington St. enjoy award winning artfully crafted wines, appetizing tidbits, and hosts local artists.
Rainshadow Café at 157 West Cedar Street has lots of seating outside and inside with a full menu and drinks to enjoy.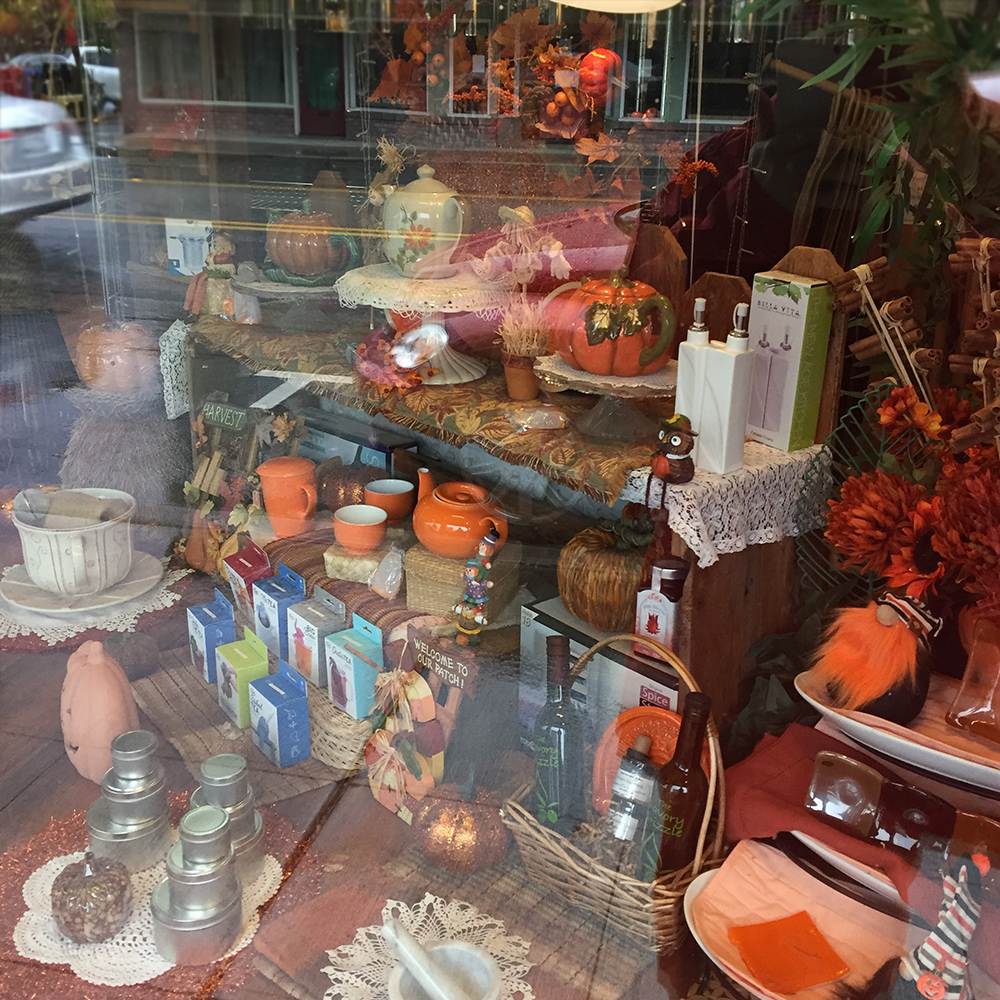 Sequim Spice and Tea at 139 W Washington St. is open until 8:00 PM with creative tea blends, colorful and fun tea pots and cups, and many more culinary gifts.
Cedarbrook Lavender Gift Shop at 120 W Washington Street has delightful farm fresh lavender creations, treats, locally created gifts, and inspired vintage décor items.
A Stitch in Time Quilt Shoppe at 225 E Washington St. will display local quilters' work that corresponds with the monthly color theme. A Stitch in Time encourages people, if they have a quilt they made that coincides with the color designated for the Art Walk, to drop them off at their shop the day of the walk with their label and info attached to their quilt.
Want to participate as a venue or artist on the Official First Friday Art Walk Sequim Map, Listing, and Website, please contact Renne Emiko Brock at 360-460-3023 or renneemiko@gmail.com If you are an artist of any media, please get your information to Renne for publicity and opportunities. Thank you for your support!
To create inclusion between venues, artists, and audience, everyone is encouraged to participate in the Art Walk's monthly themes as a fun community activity in any creative form they wish to express it. January is silver, February is red, March is green, April is pink, May is aqua, June is white, July is purple, August is yellow, September is blue, October is orange, November is brown, and December is gold.
Please join our Facebook Page at facebook.com/sequimartwalk