March 6, 5:00 – 8:00 p.m.
Various Venues in Sequim WA
SequimArtWalk.com
On March 6, reveal an invigorating evening filled with green apparel and hints of promising starts, spring sprouting, motivated anticipation, and revitalized good fortune. March's First Friday Art Walk Sequim reveals GREEN as the theme color that represents fresh ideas, learning something new, youthful pursuits, nurturing natures, eternal good spirits, wellness, and generous assurance. You will discover newfangled art and imaginative folks supporting the option to decorate and dress in all shades of green while you stroll on the town with friends.
First Friday Art Walk Sequim is a fun and free self-guided tour of local art venues in Sequim on the First Friday of every month from 5 – 8 p.m. Visit online at SequimArtWalk.com as your resource to download and print your own map, find out what special events are happening, links, and how you can be part of art. Initiated in 2006, the First Friday Art Walk Sequim is an encouraging and educational arts event that is sponsored and produced by Renne Emiko Brock. Our mission is to create approachable and accessible art and cultural venues that encourage the community to connect and celebrate expression and diversity.
Special Events March 6: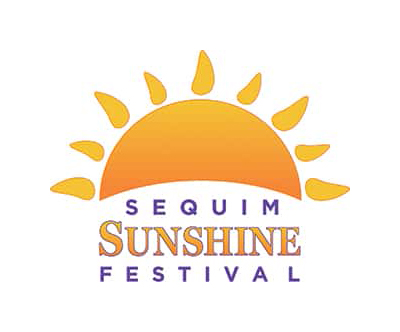 Lots of events are happening during the First Friday Art Walk Sequim for the Sequim Sunshine Festival during the first weekend in March, Friday and Saturday, March 6 -7. The Sunshine Festival will bring relief from the winter blues with activities that focus on light, fun, art, physical activity, and positive energy for all ages. The Sunshine festival focuses on one of Sequim's best-known features – Sunshine! Visit for more details at https://www.visitsunnysequim.com/263/Sequim-Sunshine-Festival
Play the "Hunt the Sun" Game is at various venues on the Art Walk! Everyone knows that Sequim is one of the driest places in Western Washington and sunshine is a theme throughout town. Join in the "Hunt the Sun" game and find the sunshine throughout Sequim. Take a photo or selfie with the items that represent the sun, and post to social media with the hashtag #sequimsunshinefestival. Participants can redeem their photos for "glow-bling" for the Saturday evening events. Glow-bling can be redeemed at the Civic Center, 152 West Cedar Street, from noon to 4:00 p.m. and at Carrie Blake Park from 5:00 to 6:45 p.m. on Saturday, March 7.
At Centennial Plaza on the Corner of Sequim Avenue and Washington Street, 3-D Chalk Artist – Naomi Haverland will be creating on Friday, March 6 from 4:00 to 8:00 p.m. and again Saturday, March 7 from 1:00 to 4:00 p.m. Naomi Haverland has been painting for as long as she can remember and has been doing chalk since 2011. She specializes in humorous and hyper-realistic portraits. She has won many awards and recognition for her chalk art, including seven awards at the Denver Chalk Art Festival in her home state of Colorado. See Naomi in action as she creates a piece of art designed just for the Sequim Sunshine Festival.
At the Garden Clubhouse at Pioneer Memorial Park, come for the Interactive Light Experience by Ross A. Brown Exhibition Opening at 6:00 p.m. Join us for this custom built interactive environment that blends art and science encouraging visitor to look at light as an artistic design element and the physical properties of light. Art and science share a similar path of exploration, but with different intentions. City Arts Advisory Commission Chairman and artist Ross A. Brown hopes this installation will instruct and also create wonder at the power of light to inform our lives. "Living here in the 'Blue Hole/Rain Shadow' have you ever wondered what is 'light'? Most of us accept that it is and get on with our lives. This exhibit is intended to invite the viewer to experience light as a form of artistic expression as well as talk about 'what is light'. As the viewer, you will be able to interact with and manipulate the light to see and feel the extraordinary power of these electromagnetic waves we call light."
Sunshine Café at 135 W. Washington Street is hosting a Pour Sip Paint at 6:30 p.m. Celebrate the new Sequim Sunshine Festival with a Pour Sip Paint session and create this special painting. $40 covers the cost of instruction from a local artist, 10″ X 20″ canvas, painting supplies and one beer, wine, or non-alcoholic beverage. A full food and beverage menu is available for purchase.
The City Arts Advisory Commission (CAAC) invites you to the "Illuminations" exhibit at the Karen Kuznek-Reese Gallery from 5:00 to 8:00 PM at the Sequim Civic Center, 152 W. Cedar Street. The artists represented are: Suzanne Anaya, Anna Blanchard, James Bowie, David Brownell, Kelcie Byrd, Diane Clementi, Sharon DelaBarre, Ines Epperson, Caryl Fallert-Gentry, Sally Franz, Rich Madeo, Melissa Mann, Mary Marsh, Bob Martinson, Evan Miller, Derek Moose, Vicki Naumann, Suzan Noyes-Mangold, Priscilla Patterson, Sally Raddock, Michael Reece, Melinda Reed, Morgan Stephenson, Ryoko Toyama, Anna Waldron, Nancy Wilcox, Sandy Wolf, and Igor Zusev. Also, at the Sequim Civic Center at 5:00 p.m. there is an Art Talk on the Art Walk- "How Light Works" with Ross A. Brown. And, at 7:00 p.m., "Look to the Sky" Movie Screening. Join us for a free screening of this inspirational documentary film by Director Brett Culp. The movie tells uplifting stories of young people who have demonstrated the iconic spirit of Superman by becoming real-life superheroes.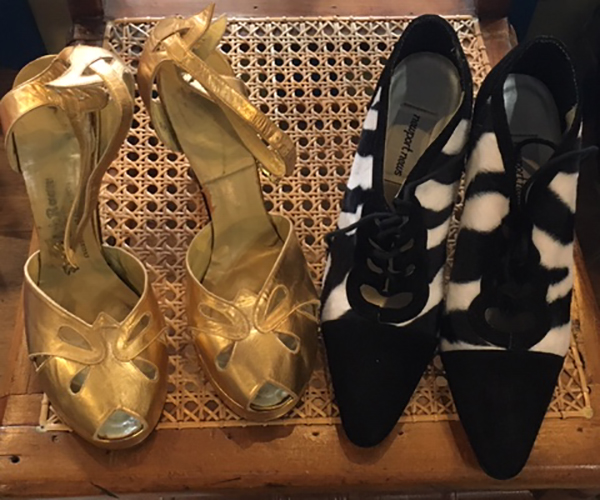 Cedarbrook Lavender Gift Shop at 120 W Washington Street will be sharing Cedarbrook and friends vintage collections. Some of the displays will include Miss Alaska 1937 footwear, ladies clothing, lovely hair brush sets and more. Come see our on vintage museum for the evening of March 6. Along with vintage items for sale too! They are also participating in the Sunshine Festival's "Hunt the Sun"!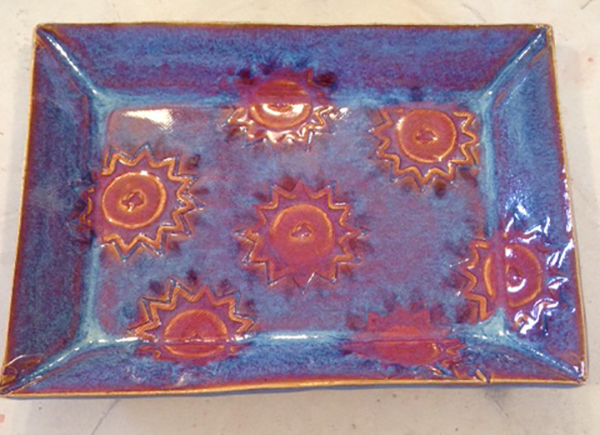 Design2Scan3D is bringing "Sol" to Sequim for Art Walk. Help us celebrate the "Hunt the Sun" game by finding our studio at 207 W Spruce St on Friday night, then find 'Sol the Sun Dish' hidden among the ceramics in our studio. Take a selfie of you and "Sol" and you could win it or other glow-bling prizes.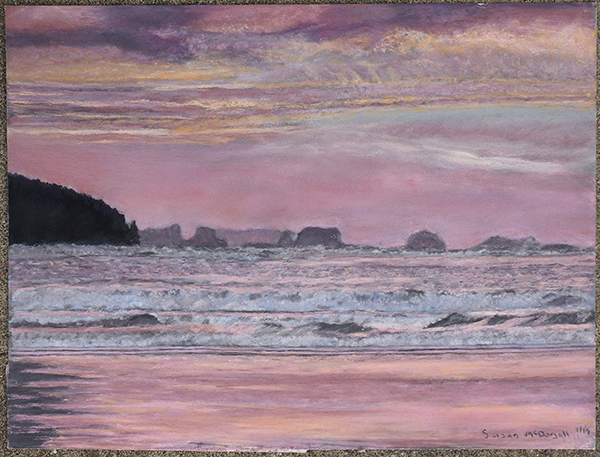 Sequim Museum & Arts at 544 N Sequim Ave. will host "The Camera in My Mind: Works" a solo exhibition of Susan McDougall. A new resident of Sequim, by training a mathematician and programmer and now retired from a career with Boeing, Susan has balanced and sustained her scientific side with a love of the natural world, while her artistic side has found expression through art and photography. An avid outdoorswoman, special subjects of interest to her are birds, trees, and western landscapes. Her photographs inspire many of her paintings and drawings. Susan works with Sennelier soft pastels, enjoying the purity of their colors and taking a keen interest in techniques of their application to best represent natural forms and textures. Recently, she has been working with felt-tip pen, distilling the complex forms of living trees and birds to present the essence of her subjects. McDougall shares, "The tension between the images I hold in my mind and the nature of pastel, the medium in which I enjoy working, forces me to think hard about how I can render just the right amount of detail to create images that are neither realistic nor abstract, but rather are 'emblematic,' showing the real center of the living creature or the scene before me." She adds, "But sometimes I just like coloring."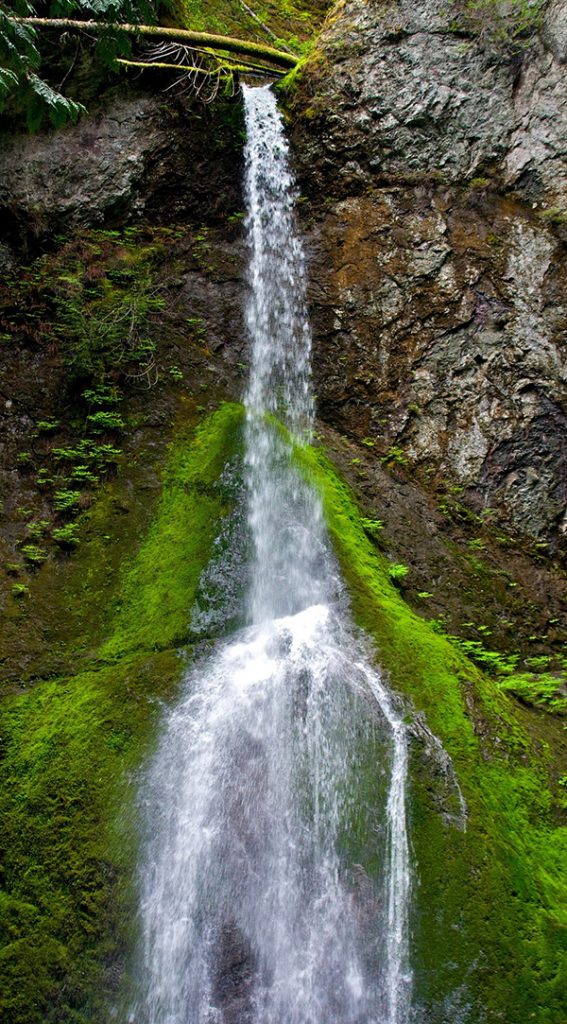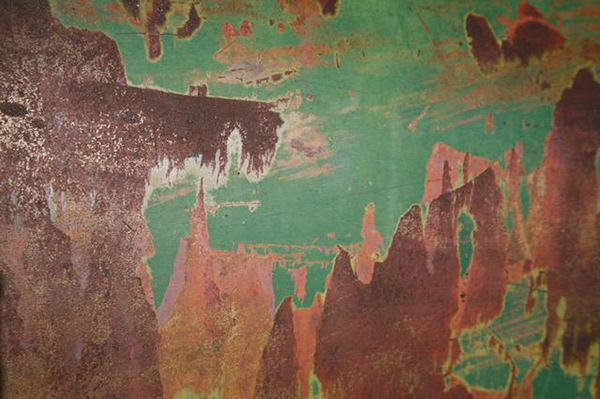 The Blue Whole Gallery at 129 W Washington St. presents the exhibition "Inner landscape" featuring artists Ken Dvorak and Katherine Loveland. Two award-winning photographers present nature's blessing in a distinguished manner. Through their art, the viewer will be guided into their inner landscape. A river or a creek runs through it (with apologies in Norman Maclean and Isaac Walton). Ken's March window in the Blue Whole Gallery is a walk through the waters of Montana and Washington's Olympic Peninsula. On the rivers of Montana Ken learned "meditation of the cast, a ritual of "10&2", mending the line, and "reading" the river. Scouting the river and the creeks of the Olympic Peninsula he found inspiration in the waterfalls, the river, and creek beds and the months of the amazing river that empty into the Pacific. Katherine shares, "Art Is the Essence of Awareness," John Galloway, Celtic poet. For both the artist and the viewer, art enables us to intertwine increased knowledge of our inner landscape with what we can know and see. My photography depicts abstract views of nature rather than realistic ones so that there is greater opportunity to know all of one's self.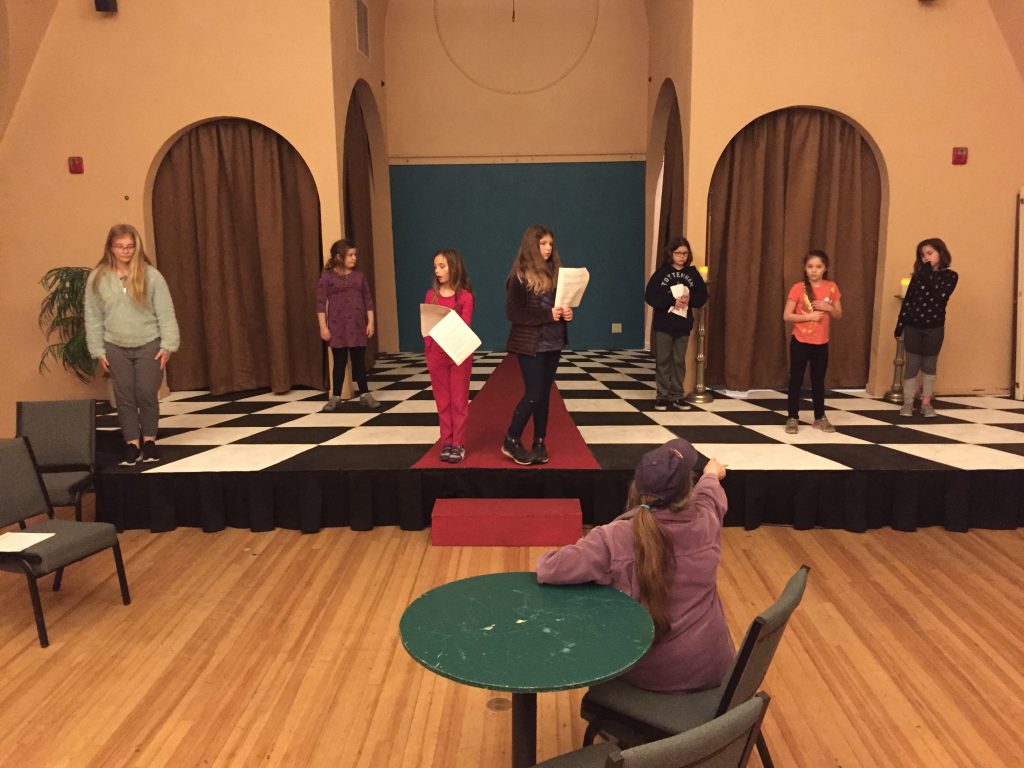 The Olympic Theatre Arts Center at 414 N Sequim Avenue presents "Game On!" from 5:30-6:30 p.m. which is a free, kid themed performance revolving around Shakespeare and games that were popular during his time or mentioned in his plays. Olympic Theatre Young Thespians, ages 8-13, will recite lines from Shakespeare's plays while demonstrating swordplay, leapfrog, stool ball and archery. They will demonstrate moves of chess, cribbage, dice, as well as showing examples of the games All Hid, All Hid, Bo Peep and Muss. After reciting lines and demonstrating all of the games, the children will invite the audience to play. Doors open at 5:15. First Friday at OTA is always free to the public, where the snack and beverage bar will be open.
Rainshadow Café at 157 West Cedar Street are hosting the music of Bread and Gravy during the Art Walk.
Want to participate as a venue or artist on the Official First Friday Art Walk Sequim Map, Listing, and Website, please contact Renne Emiko Brock at 360-460-3023 or renne@uniqueasyou.com If you are an artist of any media, please get your information to Renne for publicity and opportunities. Thank you!
To create inclusion between venues, artists, and audience, everyone is encouraged to participate in the Art Walk's monthly themes as a fun community activity in any creative form they wish to express it. January is silver, February is red, March is green, April is pink, May is aqua, June is white, July is purple, August is yellow, September is blue, October is orange, November is brown, and December is gold.
Please join our Facebook Page http://www.facebook.com/sequimartwalk