First Friday Art Walk Sequim
January 4, 5 – 8 p.m.
Various Venues in Sequim WA
SequimArtWalk.com
January 4 Art Walk Color Theme is SILVER with hints of black and white to celebrate the New Year filled with idealistic goals for the future, optimistic hope, and reflection. The sparkly color of silver represents shiny aloft ideals, confident inclusion and equity, shimmering thoughtfulness, honorable dedication, untarnished resilience, imaginative aspirations, and revolutionary receptiveness. To create inclusion between venues, artists, and audience, everyone is encouraged to participate in the Art Walk's monthly color themes as a fun community activity in any creative form they wish to express it. You can also solve the "The Case of the Mistaken Tin Foil Hat" at the 6th Annual Whodunnit Downtown? Mystery Game during January 4 Sequim Art Walk for a prize!
First Friday Art Walk Sequim is a fun and free self-guided tour of local art venues in Sequim on the First Friday of every month from 5 – 8 p.m. Visit online at SequimArtWalk.com as your resource to download and print your own map, find out what special events are happening, links, and how you can be part of art. Initiated in 2006, the First Friday Art Walk Sequim is an encouraging and educational arts event that is sponsored and produced by Renne Emiko Brock. Our mission is to create approachable and accessible art and cultural venues that encourage the community to connect and celebrate expression and diversity.
Special events for January 4: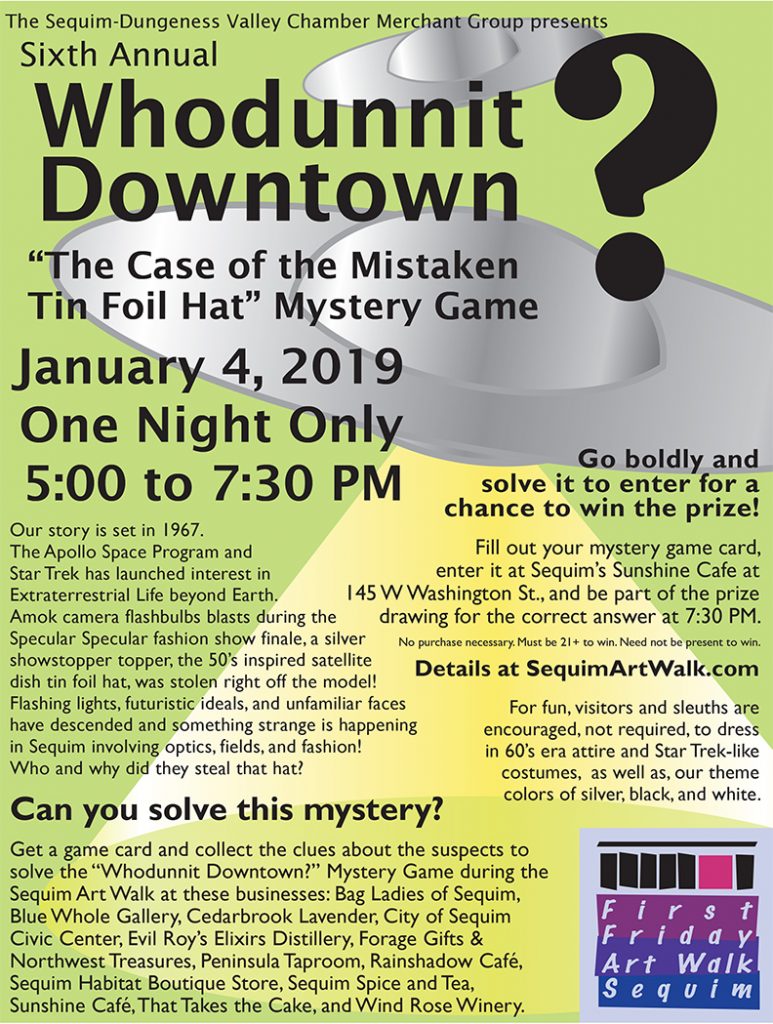 The Sequim-Dungness Valley Chamber Merchant Group presents the Sixth Annual "Whodunnit Downtown? – The Case of the Mistaken Tin Foil Hat" Mystery Game which is a fun-filled evening where visitors engage with suspects and collect the clues about them at various venues to solve the crime for a chance to win a prize during the January 4 First Friday Art Walk Sequim from 5:00 to 7:30 PM.
Our story is set in 1967. The Apollo Space Program and Star Trek has launched interest in Extraterrestrial Life beyond Earth. This galactic curiosity apparently inspired the famous fashion designer, Specular Specular, who launched her haute couture spring line with glowing reviews and petty theft. Amok camera flashbulbs blasts during the fashion show finale, her silver showstopper topper, the 50's inspired satellite dish tin foil hat, was stolen right off the model! Flashing lights, futuristic ideals, and unfamiliar faces have descended and something strange is happening in Sequim involving optics, fields, and fashion! Can you solve the mystery of "The Case of the Mistaken Tin Foil Hat"? Find the clues about the suspects at the Whodunnit Downtown locations during the First Friday Art Walk Sequim.
Go boldly as you adventure around the Sequim Art Walk venues to mingle with the suspects in our mystery game and discover why they might have stolen Specular Specular's "Tin Foil Hat" starting at 5 PM. You can solve this crime that will inspire communication and inclusion by finding clues at these local businesses: Bag Ladies of Sequim at 161 W Washington St., Blue Whole Gallery at 129 W Washington St., Cedarbrook Lavender at 134 1/2 W Washington St., City of Sequim Civic Center at 152 W Cedar St., Evil Roy's Elixirs Distillery 209 S Sequim Ave., Forage Gifts & Northwest Treasures at 121 W Washington St., Peninsula Taproom 210 W. Washington St., Rainshadow Café at 157 W Cedar St., Sequim Habitat Boutique Store at 213 E Washington St., Sequim Spice and Tea at 139 W Washington St., Sunshine Café at 145 W Washington St., That Takes the Cake at 171 W Washington St., and Wind Rose Cellars at 143 W Washington St.
Can you solve this mystery? Pick up your game card at any of the participating venues. Fill out your game card, enter it at Sunshine Café at 145 W Washington St., and be part of the prize drawing for the correct answer at 7:30 PM. No purchase necessary. Must be 21+ to win. Need not be present to win. Winner drawn by random and prizes donated by local Sequim Businesses. The first game card drawn with the correct answer wins the big prize of gifts from Sequim friends and businesses including a stay at the Seaview Vacation Rental at Cedarbrook Lavender and Herb Farm.
Visitors and sleuths to the "Whodunnit Downtown?" and Sequim Art Walk are encouraged to dress in our themed colors of silver, black, and white, as well as, in 60's era and Star Trek motivated attire. It is not required, but dressing up makes the evening more fun and festive.
Details for the Whodunnit Downtown, including a map for the First Friday Art Walk Sequim, are at SequimArtWalk.com and Facebook.com/sequimartwalk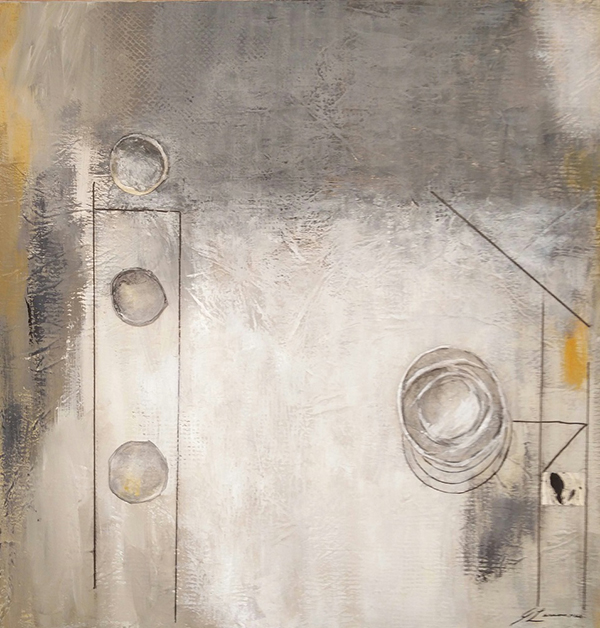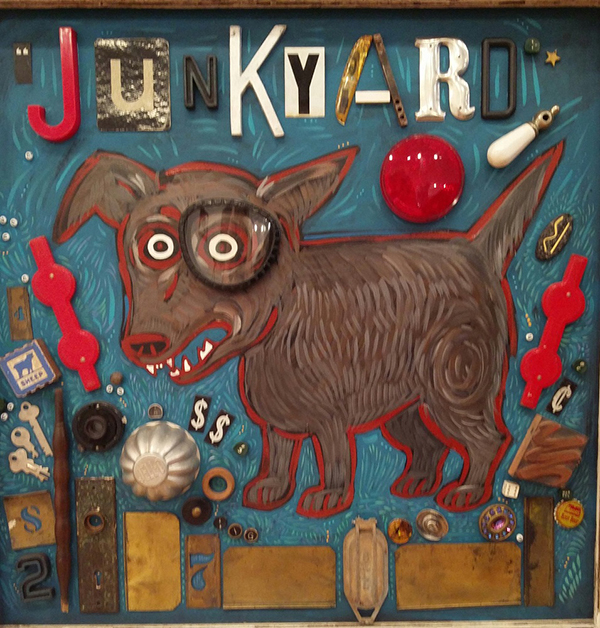 To welcome the New Year, 2019, the Blue Whole Gallery at 129 W Washington St. presents the gallery's First Juried Show. Fifty-nine local artists responded the call for 2D artists. From 149 total artworks, 61 pieces were selected for the exhibit in the month of January. The jurors, Lynne Armstrong, Jeannine Chappell, Carol Janda, and Karen Rozbicki Stringer are extremely pleased with the overall quality of the submitted works. Joyce Volmut, president of the gallery and the coordinator of the juried show, expressed her gratitude to the local artists for their enthusiastic participation. The artists successfully juried in are Allyne Lawson, Anne Milligan, Betsy Robins, Beverly Beighle, Carol Patrick, Chawn Vance, Claude Manning, Colleen Bittner, Dana Burback, David Chastain, David Willis, Deb Sterk, Debbie Harding, Ed Stetson, Ernst Shaker, Gail Larson, Howard Chadwick, Jackie Hardin, Jerry Moore, Jim Gift, Jinx Bryant, Judy Larimore, Kathy Buchanan, Lisa Martin, Marilyn Sandau, Mary Marsh, Marti Mathis, Melissa Doyel, Pat Lazzarotto, Patrick Clark, Phillip Zonner, R. Evan Miller, Ray Shook, Rose Guastella, Ross Brown, Sandy Jacobsen, Sharmon Owings, Sherry Smith, Sherry Scharchmidt, Shirley Rudolf, Susan McDougall, Susan Noyes Mangold, Susan Shaw, Tammy Hall, Terry Buchanan, Tina Weitz, Virginia Jefferson, and Wanda Sims.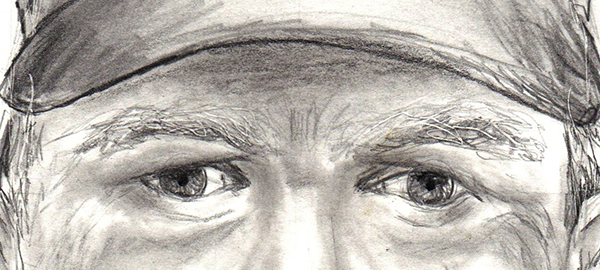 The City Arts Advisory Commission (CAAC) opening of the "Go Figure" exhibit and artist reception from 5:00 to 8:00 PM at the Sequim Civic Center, 152 W. Cedar Street. The opening event will include demonstrations from local award-winning artist presenters talking about how to draw and paint figures, how to create digital artwork, and how a criminal sketch artist works. The CAAC reviewed 46 pieces of work before selecting 34 pieces from 21 artists to be included in the show. The artists represented are Ron Reynolds, Priscilla Patterson, Randy Radock, Marilynn Evans, Stacey Marin-Lopez, Gary Bullock, Gail McLain, Mark Kennedy, Ross Brown, Sharman Owings, June Echternkamp, Eileen Gieser, Mary Marsh, Mary Franchini, Lynne Armstrong, Pamela Dick, Curposney Gdane, Jeannine Chappell, Susan Martin Spar, David Johannessohn, and Steve Jones.
At 5:15 PM, Susan Spar presents "Bringing Your Vision to Life; An Introduction to Finding Your Inner Artist". Spar is a classical artist and teacher. In her presentation, she will illustrate the steps she takes in drawing and painting a figure and will be sharing some of her students' work to show how they take their idea and begin to create it. This will be done via showing a visual progression of how they are taught to place a figure into an imaginary environment.
At 6:15 PM, Pamela Dick presents "Digital Artistry: Using Your Computer to Create Fine Art". Dick is a digital artist specializing in fractals. According to the Merriam-Webster Dictionary, "the term fractal was coined in 1975 to describe shapes that seem to exist at both the small-scale and large-scale levels in the same natural objects. Fractals can be seen in snowflakes, in which the microscopic crystals that make up a flake look much like the flake itself." Dick will explain the steps she takes to create her own unique shapes and imagination expanding images, with examples, explanations, and interpretations of her work.
At 7:00 PM, Priscilla Patterson will present "How to Catch A Criminal: Starting with a Sketch". Patterson is a police sketch artist certified in Composite Drawing for Law Enforcement. She will share her passion for the journey to become a Certified Composite Artist and her work as a police sketch artist.
In the Sequim Civic Center Lobby visit with Susan Spar while working with a live model on site, Susan will demonstrate the technique she uses to start a drawing and will have illustrations of previous work available for viewing. Pamela Dick will show some of the steps to creating fractal art including what happens when the mathematical formula is changed and how to add colors, 3-D effects, and finishing. And, Pricilla Patterson will do some on-site sketching while she shares her award-winning paintings, books, and CDs.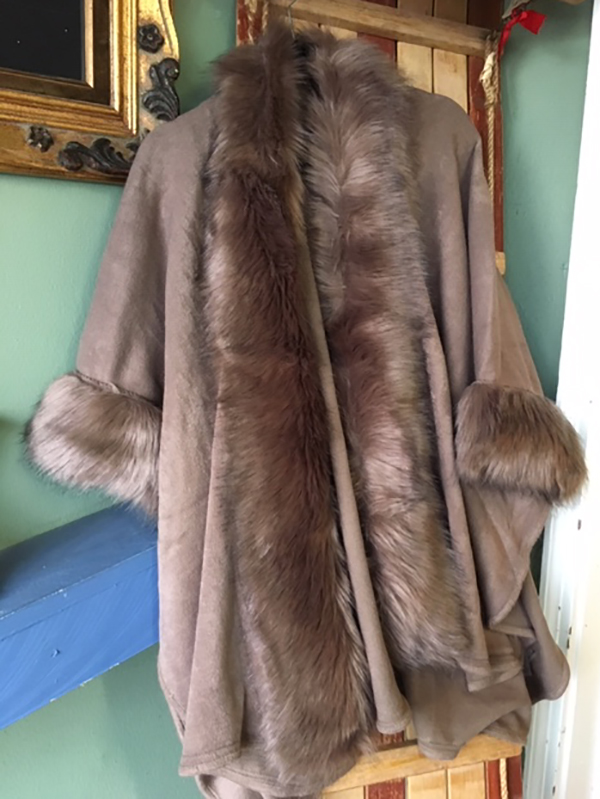 Find handmade gifts and 60's inspired gear at Cedarbrook Lavender at 134 1/2 W Washington St.
Rainshadow Café at 157 W Cedar presents "Mixed Company" a local husband and wife team with friends who enjoy making music together and know how to get toes tapping. The music they play is a mix of old-time favorite bluegrass, Irish tunes, a few Texas two-step favorites, a sprinkling of vintage soft rock/folk with a "Mixed Company" twist, as well as some spicy Cajun samplings. David Herrera plays mandolin, having played with several groups locally, entertaining friends for a number of years. Bob Warner, on guitar, comes to "Mixed Company" from Olympia and time playing with a blues band. Jon Faverty has played fiddle for decades, formerly playing professionally in south Florida. Jon's wife, Karen Faverty, rounds out the sound with a bass line, played on a Kala U-bass.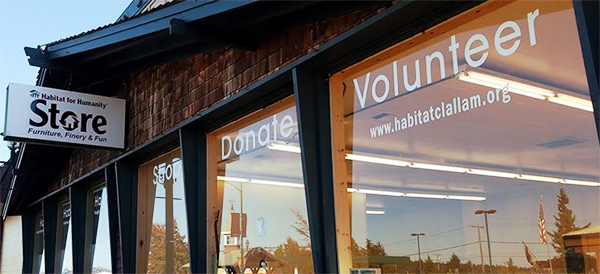 New Venue to the Art Walk! Sequim Habitat Boutique Store at 213 E Washington St. where they are featuring local artist Craig Robinson with acrylic on canvas and some painted furniture.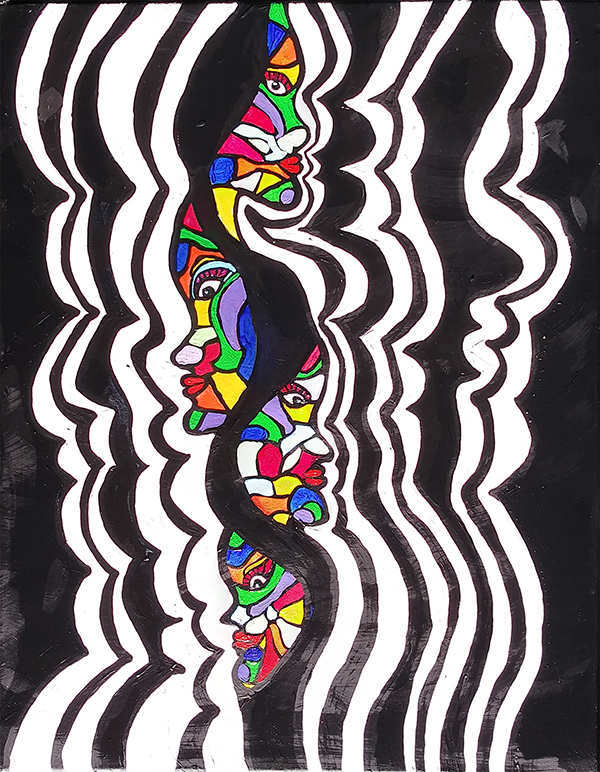 Artist Tami Wall is exhibition at That Takes the Cake at 171 W Washington St.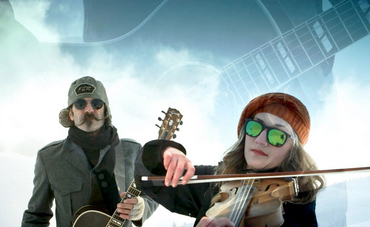 Wind Rose Cellars at 143 W Washington St. hosts Crushwater hailing from Port Angeles. Crushwater was formed in 2016 when singer, violinist Chandra Johnson joined forces with frontman, guitarist Scott Sullivan and drummer Casey Northern. The band immediately began crafting original songs with vocals that interlace harmony and interwoven male/female interplay, enraptured by a bed of lush violins, full harmonies, resonant guitars, and driving rhythms. Partnered with this live music, enjoy award winning artfully crafted wines and appetizing tidbits.
Meet and greet the local artists at The Bag Ladies of Sequim at 161 W Washington St. filled with handcrafted works and artful up-cycled items.
At 5:30 PM, the Olympic Theatre Arts at 414 N Sequim Ave. has a "Best of the their Newest Repertoire" performance by JUST IN TYME with songstresses Olga Palenga and Debra Davis accompanied by Richard Crowell on his wailing guitar and brought together by their leader Sandi Lockwood on synthesizer in the Gathering Hall. First Friday at OTA is always free to the public, where the snack and beverage bar will be open.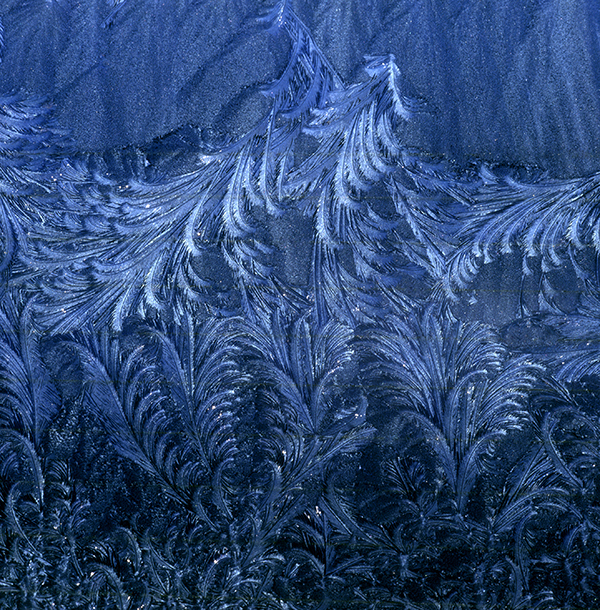 Jan Kepley will be displaying his fine art photography at Pacific Pantry at 229 S Sequim Ave. from 5:00 to 7:00 PM. His show will be an expression of Jan's metaphoric and scenic winter influenced imagery, as well as, a display of photographic note cards and 2019 calendars.
To create inclusion between venues, artists, and audience, everyone is encouraged to participate in the Art Walk's monthly themes as a fun community activity in any creative form they wish to express it. January is silver, February is red, March is green, April is pink, May is aqua, June is white, July is purple, August is yellow, September is blue, October is orange, November is brown, and December is gold.
Want to participate as a venue or artist on the Official First Friday Art Walk Sequim Map, Listing, and Website, please contact Renne Emiko Brock at 360-460-3023 or renne@uniqueasyou.com If you are an artist of any media on the Art Walk, please get your information to Renne for publicity and opportunities.
Please join our Facebook Page: http://www.facebook.com/sequimartwalk
Thank you for your support!