December 6 Art Walk Color Theme is GOLD and all that glimmers brilliantly! Gold is the color of our star Sol as we celebrate the Winter Solstice and the return of the sun during December. The impressive, shiny color of gold represents radiant friendships, admiration, prosperity, superb festivities, rekindled optimism, kindhearted deeds, and lifelong fellowships. As you enjoy an evening on the town with family, friends, and guests who join our welcoming community, you will find works of art and folks supporting the option to dress in shades of gold or glittery interpretations of this festive time of year to celebrate happiness, harmony, and hope. Enjoy the Holiday Stroll among the downtown venues and visit with Santa!
First Friday Art Walk Sequim is a fun and free self-guided tour of local art venues in Sequim on the First Friday of every month from 5 – 8 p.m. Visit online at SequimArtWalk.com as your resource to download and print your own map, find out what special events are happening, links, and how you can be part of art. Initiated in 2006, the First Friday Art Walk Sequim is an encouraging and educational arts event that is sponsored and produced by Renne Emiko Brock. Our mission is to create approachable and accessible art and cultural venues that encourage the community to connect and celebrate expression and diversity.
Special events on December 6:
Several of our First Friday Art Walk Sequim venues are part of the Sequim Holiday Stroll and Sale happening from 4 to 7 as well. This includes a jolly photo-op with Santa & Mrs. Clause and free candy canes at Forage Gifts & Northwest Treasures at 121 W Washington St. Gather "Night Before Christmas" books signed by Santa from Dungeness Kids Co. at 163 W Washington St. Play "Elk on the Shelf" throughout town and visit Santa's Reindeer at Coastal Farm & Ranch.
Rainshadow Cafe at 157 W Cedar St. is participating in the Holiday Stroll with giving away mini hot chocolate sippers and hosting live music with "Bread and Gravy" from 6:00 to 8:00 PM. 
The City of Sequim and the City Arts Advisory Commission invite the public to the Sequim Civic Center for the Holiday Tree Lighting Ceremony and Reception and "Tie One On" exhibit at 152 W Cedar St. The artists represented are Lora Armstrong, Nancy Booth, Jane Burkey, Jeannine Chappell, Patrick Clark, Sharon DelaBarre, Leslie Dickson, Penny Dorothy, Marilynn Evans, Caryl Bryer Fallert-Gentry, Cindy Fullwiler, Fumie Gage, Anne Grasteit, Eva Kozun, Ernie Kozun, Allyne Lawson, Melissa Mann, Bob Martinson, Debra Olson, Priscilla Patterson, Marcedes Perry-Baar, Susan Schneider, Gloria Skovronsky, Ryoko Toyama, and Sandy Wolf.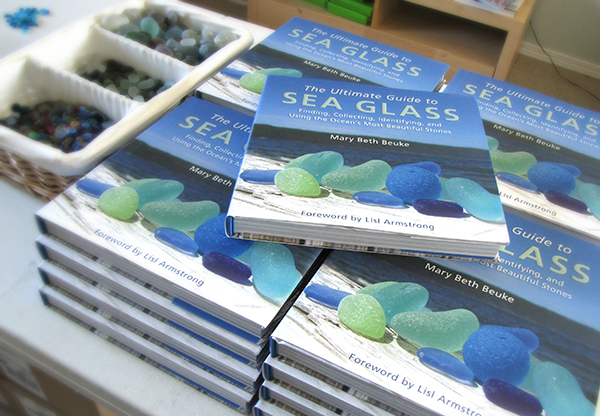 That Takes The Cake at 171 W Washington St. is hosting the Sequim Creatives and Educators Book Signing with Mary Beth Beuke, Renne Emiko Brock, Kelly Griffith, Marina Shipova, and Lara E. Starcevich from 5:00 – 8:00 PM. At this book buying and signing event, you will discover "The Ultimate Guide to Sea Glass: Beach Comber's Edition: Finding, Collecting, Identifying, and Using the Ocean's Most Beautiful Stones" by Mary Beth Beuke with expert advice for first-time seekers start new collections and veteran hunters who want to learn more—from California to Cape Cod, from the Gulf Coast to the Pacific Northwest, and around the world.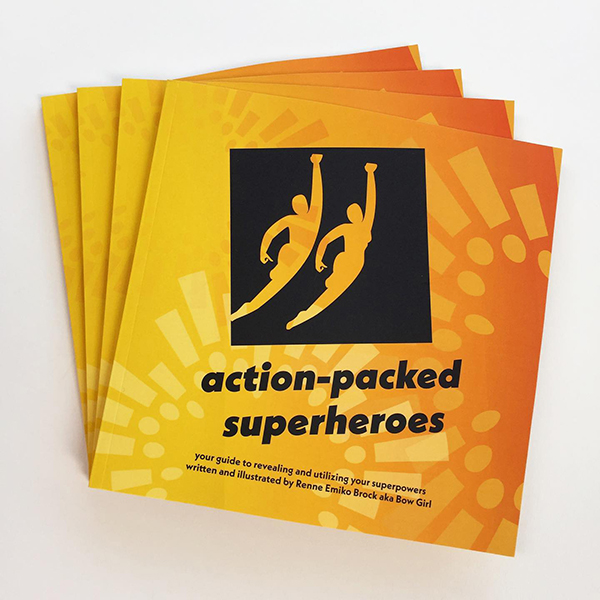 "action-packed superheroes: your guide to revealing and utilizing your superpowers" by Renne Emiko Brock teaches through color and action how to communicate your unique, authentic motivation, zeal, and mission to be productive, successful, and encouraging superhero.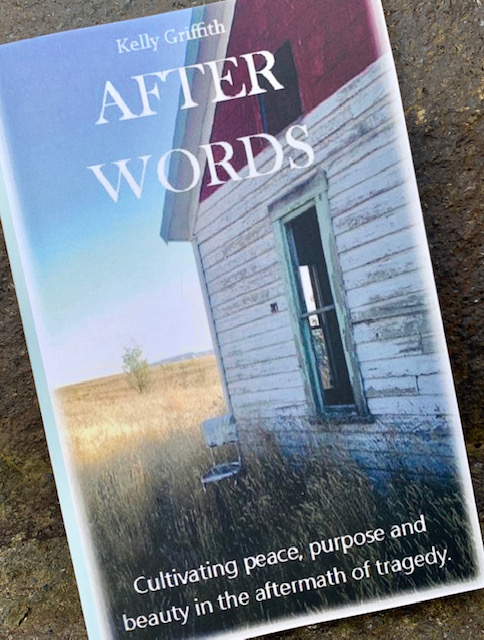 "After Words: Cultivating peace, purpose and beauty in the aftermath of tragedy" by Kelly Griffith recounts her family's difficult and remarkable journey from grief and new normal to happiness and gratitude.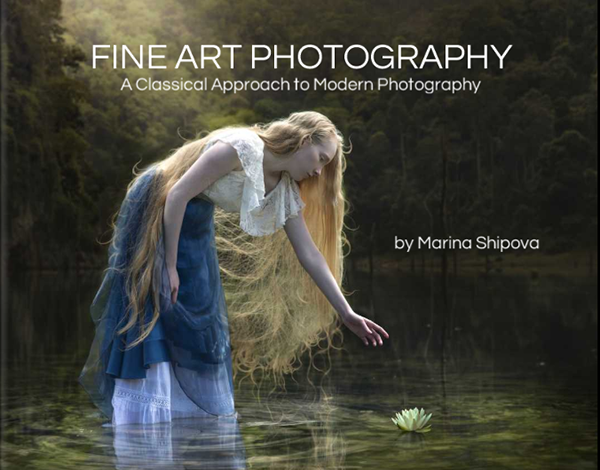 "Fine Art Photography", "The Art of Steampunk – Every Picture Tells a Story", and "The Art of Fantasy – Whimsical Fairytale Illustrations" by Marina Shipova and she says ". Classic art has always been the anchor and core of my artistic journey. I find myself in a world where the digital canvas is infinitely flexible, a conduit for limitless possibilities, upended in multiple dimensions and unified by apps and technologies."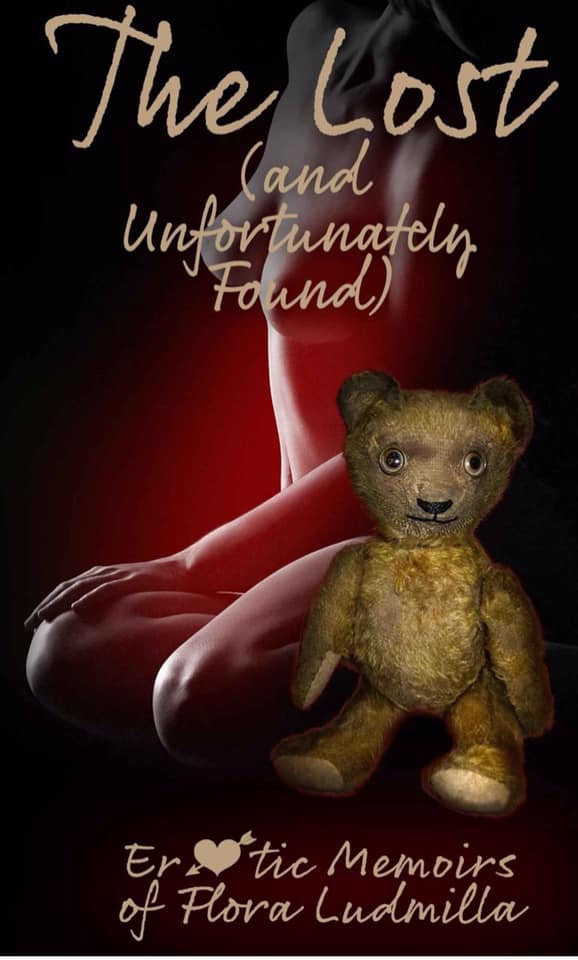 by Lara E. Starcevich "The Lost (and unfortunately found) Erotic Memoirs of Flora Ludmilla: by Flora Ludmilla" by Lara E. Starcevich is a lark in this 'tell-all' expose of epic proportions, Flora Ludmilla bares all in this seething, self-pleasuring confessional that pushes the envelope of good taste. You can learn a lot from these local authors. Brock, Griffith, Shipova, and Starcevich teach and work at Peninsula College, including art, multimedia, and drama, and Beuke travels the world to teach about sea glass treasures. Their books can delight your eyes, tickle your funny bone, tug at your heartstrings, and inspire your soul. Also, get artistic cupcake treats at the award-winning That Takes The Cake while you stroll on the Art Walk.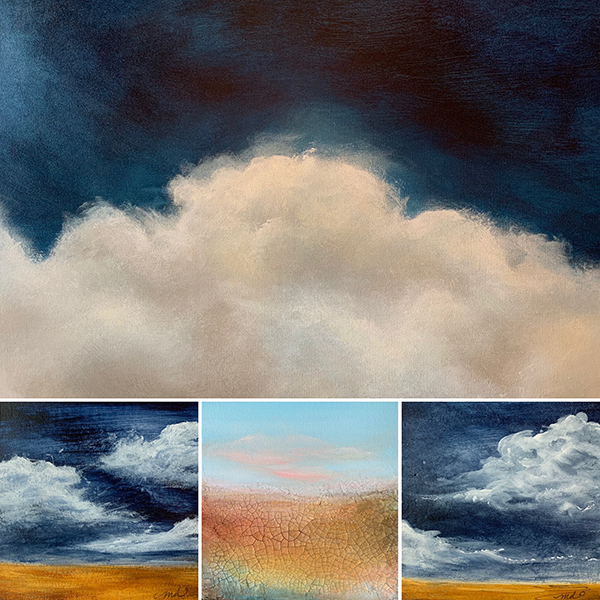 Wind Rose Cellars at 143 W Washington St. hosts visual artist and designer Makayla DeScala. Born and raised in the Pacific Northwest, she gains inspiration from the diverse and rugged landscape around her, drawing parallels between events in nature, like storms and seasons, with the human experience. Her newest collection of paintings will be featured at Wind Rose Cellars December-February and is a focused work on environmental cloudscapes. She explores variations in shape, tone, color and texture with the intent to showcase how they can alter and/or create mood and atmosphere. Primarily a painter working with acrylic paints and mediums, her pieces have been described as colorful and expressive. Simplicity, movement and color remain at the center of her work, making her collections versatile and desirable for various tastes. A graduate of Peninsula College's Multimedia program, Makayla credits the skills she learned there as well as the relationships she formed, as being crucial to her success as an artist. She currently sits on the Multimedia advisory board as a way to give back and encourage a new generation of creatives.
At 129 W Washington St, the Blue Whole Gallery's exhibition is inspired by the Beatles, John Lennon classic song IMAGINE. Calling on their wealth of imagination for their works, the artists of the Blue Whole Gallery will display in this group show. All the members will be Co-curators, Lynne Armstrong and Mary Franchini, have worked together curating the gallery and sharing ideas and creative endeavors for many years. Enjoy the exciting windows curated by two veteran artists. The community is invited to the free opening reception. Meet the artists, check the Gift Gallery, and participate in a surprise raffle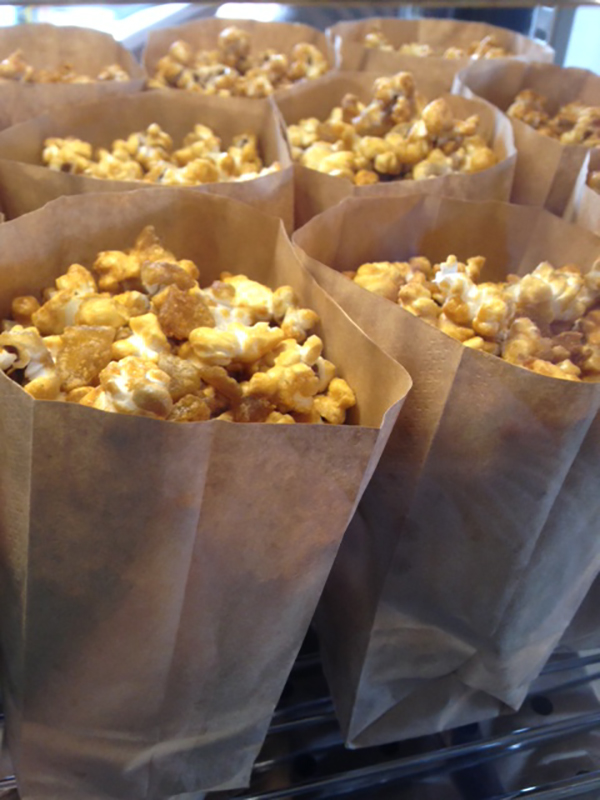 Design2Scan3D and Dungeness Chestnuts are teaming up at the Spruce Building, 207 W Spruce Street for the Sequim Art Walk. Design2Scan3D will host a holiday bazaar in the studio featuring unique stoneware gift items under $10. Dungeness Chestnuts will offer both roasted and fresh chestnuts for sale as well as our popular Chestnut Crunch Caramel Corn that sold out during last month's Art Walk. Stop by and shop their unique gifts and try something new.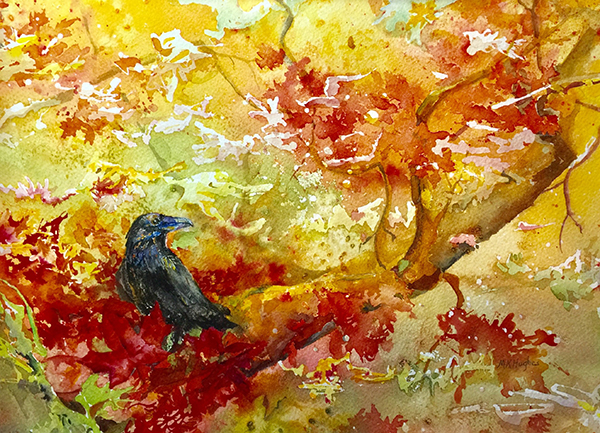 Harbor Audiology and Hearing Center at 538 N 5th Avenue hosts members of NOW (North Olympic Watercolorists which is located across the street from St. Luke's Episcopal Church. In addition to original art hanging, there will be also small prints, miniatures, greeting cards, Christmas ornaments, so on, which would make great stocking stuffers.
Olympic Theatre Arts welcomes Cheryl Bell and Jason Paul for an evening of musical variety at 5:30 PM at 414 N Sequim Avenue. Cheryl Bell has always loved singing and is enjoying bringing her sultry, provocative vocals to many musical styles. You can follow her on Facebook at Cheryl Bell Vocalist. Jason Paul is a guitarist and vocalist. Since moving to the Olympic Peninsula his musical talents include classical, jazz, pop, country, and rock & roll. He performs as a soloist and in concert with fellow musical talent here on the Olympic Peninsula. From Latin to Country these two perform an entertaining blend of music you are sure to enjoy! First Friday at OTA is always free to the public, where the snack and beverage bar will be open.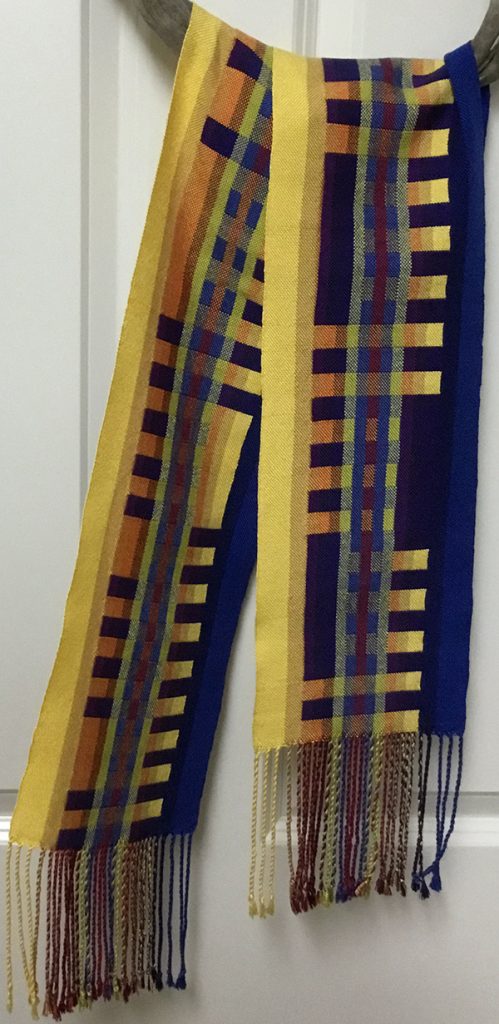 Sequim Museum & Arts at 175 W Cedar St. hosts a fiber art exhibition by Jan Tatom and is featuring four Sequim authors book signing and. The local authors are Iconic Pioneer Photographer Ross Hamilton, Katherine Vollenweider, Barbara Paschal, and Teresa Schoeffel-Lingvall.
Jan Tatom is a local fiber artist who is ever inspired by the spectacular colors and textures of nature. Whether it's the incredible colors of the seasons, or the snow-capped Olympic Mountains, nature is always providing a wonderland of texture and color that Jan loves to mimic in her artistic creations. Her artistry is expressed in the form of wearable art, including hand-woven, knitted, and felted items; garments constructed from purchased fabrics; wall hangings; and utilitarian art.
Katherine Vollenweider joins the Sequim Museum crew and will be aboard to sign her book, "Images of America, Sequim – Dungeness Valley". This book presents our local history as a continuum – through the people, the natural resources, and how both have contributed to the communities we see today. Meticulously researched, methodically cited, and imminently quotable, Vollenweider reveals the origins and roles of locations, dates, places, and names that are almost forgotten except on vintage maps. Always looking for the answers, she shows how commerce and development linked to create an economy. In her research, Vollenweider unearthed the mystery as to how and by whom New Dungeness was initially funded and the true people who commissioned the Dungeness Wharf. All of this material became available in the early 2000's due to digitizing of newspapers, books, government records and more. Katherine was the Sequim Museum & Arts Registrar from 2002 -2004, its' Director from 2004 – 2010; started the Sequim Archives at the museum; serves as an Advisor to the Museum Board of Trustees; Seattle Power Squadron grant writer; and has recently started assembling maritime photography of vessels and fisheries of the last 40 years.
Barbara Paschal has written two Children's Books: "Stampy and Friends" and " Stories for Stampy". Combined in the two volumes she has written 15 short gentle tales of animals from giraffes to puppies to ladybugs as well as small children. The two books are illustrated with 150 of Barbara's original colorful and imaginative watercolor paintings. They were originally written for a wonderful child she was helping at the Sequim Boys and Girls Club. Barbara named the Teddy Bear on the cover and in some of the stories "Stampy". Barbara is a retired Physical Therapist and love's watercolor painting, writing and helping others in the community. She is grateful for the opportunity to share her books so they may be enjoyed by other children and help them with reading.
Teresa Schoeffel-Lingvall, great granddaughter of one of the first to discover the Olympic Hot Springs, authored a book of the history of this local phenomenon. Beautiful old pictures are on every page giving the reader a clear view of the area and its development. The resort remains strongly in our memories and the hot water still bubbles out of the ground.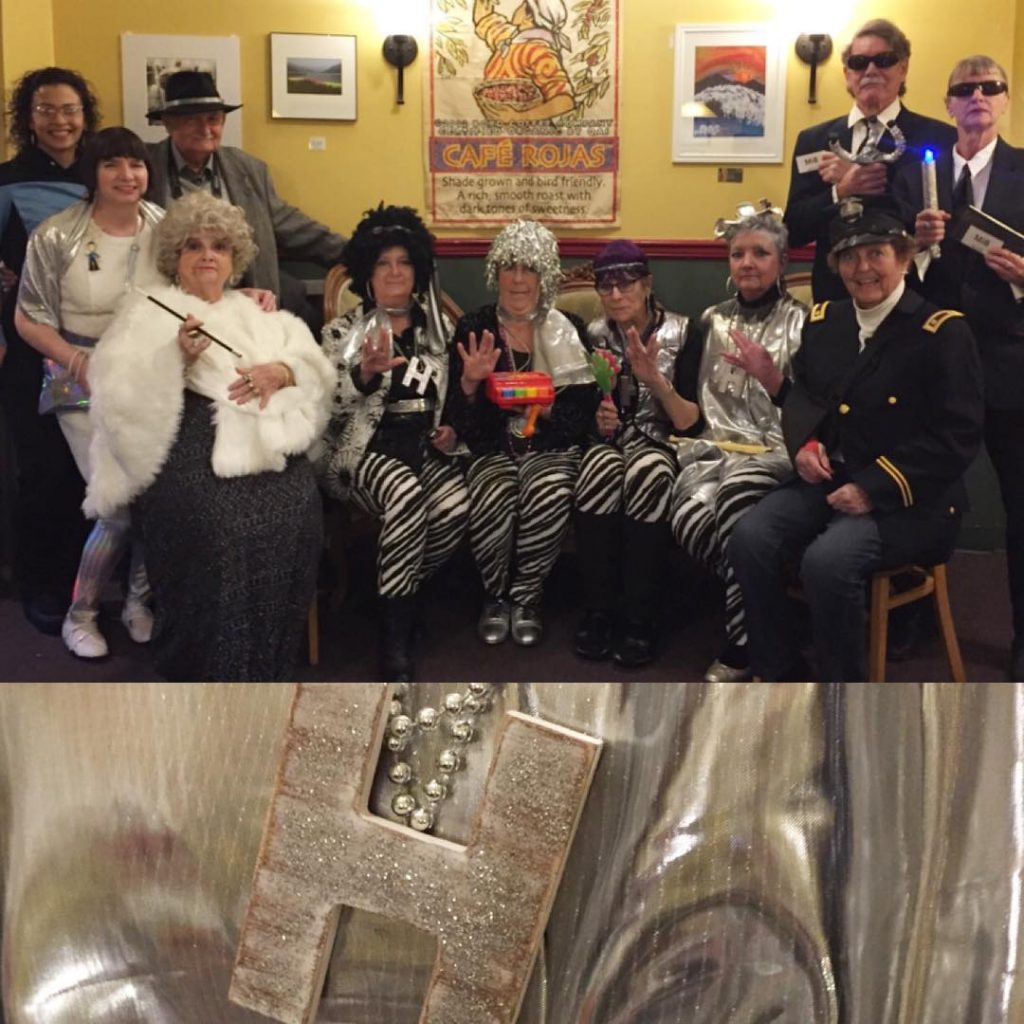 Be prepared for the 2020 Seventh Annual "Whodunnit Downtown? – The Case of the Disco Trophy Hustle" Mystery Game is a fun-filled evening where visitors engage with suspects and collect the clues about them at various venues to solve the crime for a chance to win a prize during the January 3 First Friday Art Walk Sequim from 5:00 to 7:30 PM. The mystery game is set in 1977 on New Year's Eve and is Co-Hosted by Cedarbrook Lavender & Herb Farm and Renne Emiko Brock. Visitors and sleuths to the "Whodunnit Downtown?" and Sequim Art Walk are encouraged to dress in the theme colors of silver, black, and white, as well as, in 70's era attire, disco duds, and Star Wars motivated costumes. It is not required, but dressing up makes the evening more fun and festive. Discover details at SequimArtWalk.com closer to game time in January. Can you solve this mystery?
Want to participate as a venue or artist on the Official First Friday Art Walk Sequim Map, Listing, and Website, please contact Renne Emiko Brock at 360-460-3023 or renne@uniqueasyou.com If you are an artist of any media, please get your information to Renne for publicity and opportunities. Thank you!
To create inclusion between venues, artists, and audience, everyone is encouraged to participate in the Art Walk's monthly themes as a fun community activity in any creative form they wish to express it. January is silver, February is red, March is green, April is pink, May is aqua, June is white, July is purple, August is yellow, September is blue, October is orange, November is brown, and December is gold.
Please join our Facebook Page http://www.facebook.com/sequimartwalk