Celebrating 15 years of art and inclusion! October 1 Art Walk Color Theme is ORANGE! Orange is one of the brighter colors in fall as summer fades away. Orange is warm, spicy, energizing, appetizing, sweet, zesty, and inspires optimism and active participation. The hospitable hue of orange reminds us cozy fires, snuggly seasonal sweaters, nesting and organizing, friendship made out of admirable interests, delightful sweets, encouraging teachers and mentors. You will find works of art and folks supporting the option to dress in shades of orange or spicy fall colors as they enjoy an evening on the town with friends and family.
First Friday Art Walk Sequim is a fun and free self-guided tour of local art venues in Sequim on the First Friday of every month from 5 – 8 p.m. Visit online at SequimArtWalk.com as your resource to download and print your own map, find out what special events are happening, links, and how you can be part of art.
Initiated in 2006, the First Friday Art Walk Sequim is an encouraging and educational arts event that is sponsored and produced by Renne Emiko Brock. Our mission is to create approachable and accessible art and cultural venues that encourage the community to connect and celebrate expression and diversity.
The First Friday Art Walk Sequim has returned while respecting the Covid health and wellness guidelines of masks, social distancing, and limited capacity. Please enjoy the Arts and Culture of Sequim safely. We are starting out small. Not all venues are open fully with the slow start of the return of the evening activities of Sequim Art Walk, so please visit them when they are open.
Special Events for October 1: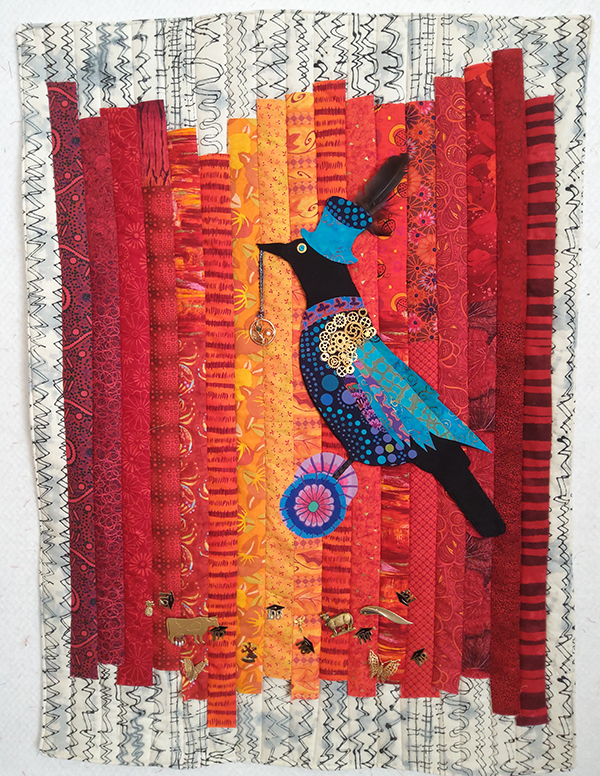 Celebrating our 16h year of the North Olympic Fiber Arts Festival, enjoy the "Bumblebunching – Warped, Twisted, & Imperfect" Opening Reception of the fiber arts exhibition which runs October 1 to November 27, 2021 at the Sequim Museum & Arts at 544 N Sequim Avenue.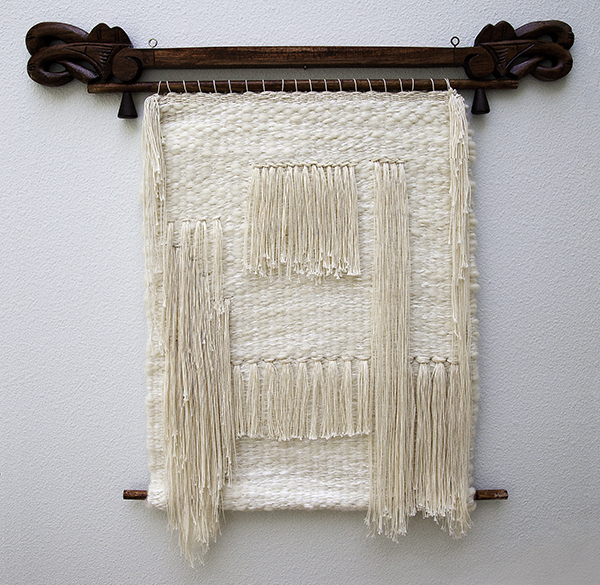 This juried fiber arts exhibition celebrating happy accidents, successful satisfaction in Wabi-Sabi, and unintended artistic experiences that often lead to evolutionary forms of expression and joyful acceptance that experimentation is part of one's art practice. Fiber Artists yearn for thorough planning and tight intention, gratification in challenging practice, and ritual appreciation and amusement in transience and incomplete mistakes. Bumblebunching are the exuberant jumbled loops created by the bobbin when stitching has improper tension while machine sewing.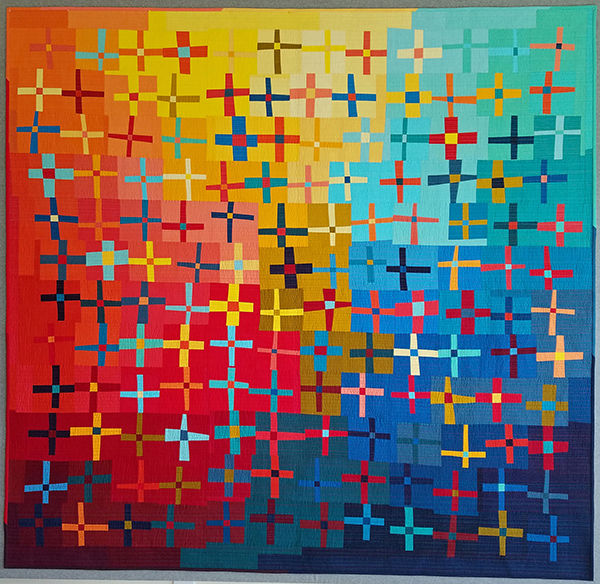 "Bumblebunching" exhibition artists include Lynn Baritelle, Honey Bliss, Renne Emiko Brock, Donna Lee Dowdney, Liisa Fagerlund, Susanne Foster, Peggy St. George, Leslie Hoex, Estelle Jackson, Susan Kroll, Jacki Moseley, Kelly Ruth, Susan Savage, Gloria Skovronsky, Marla Varner, and Jean Wyatt.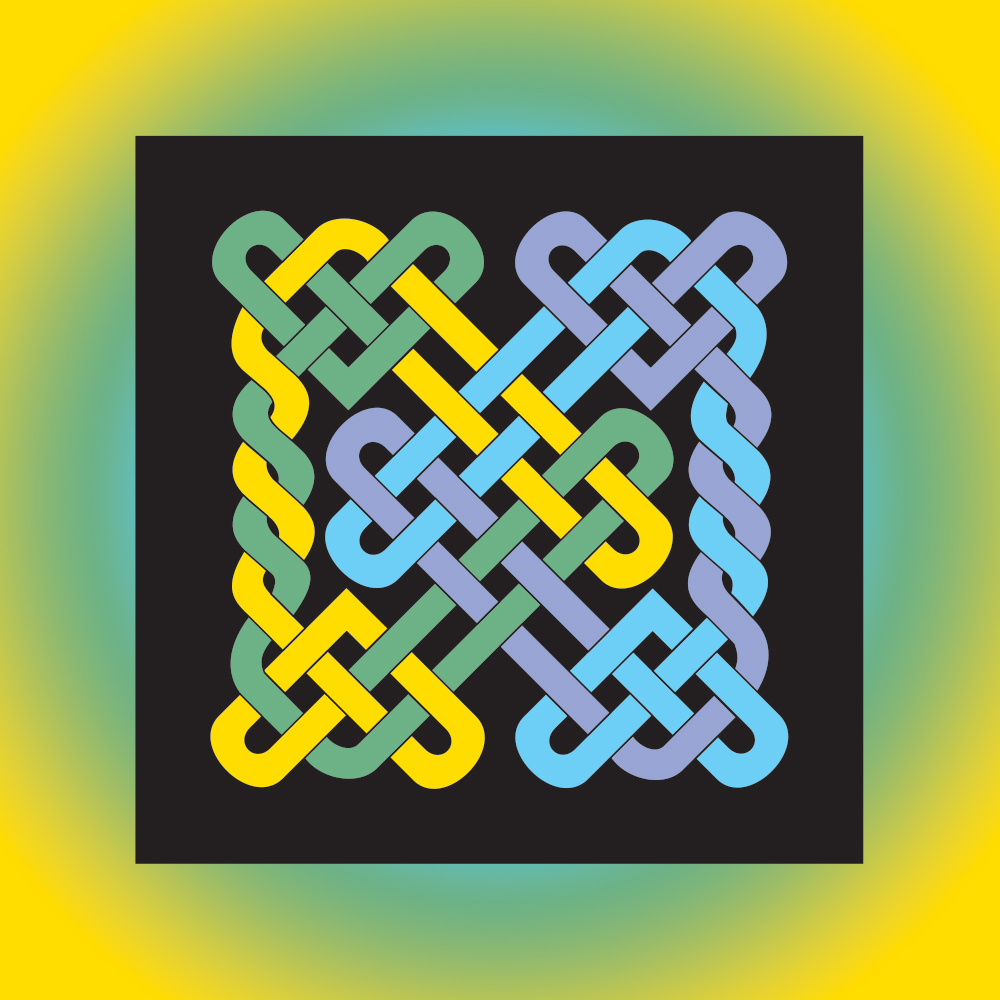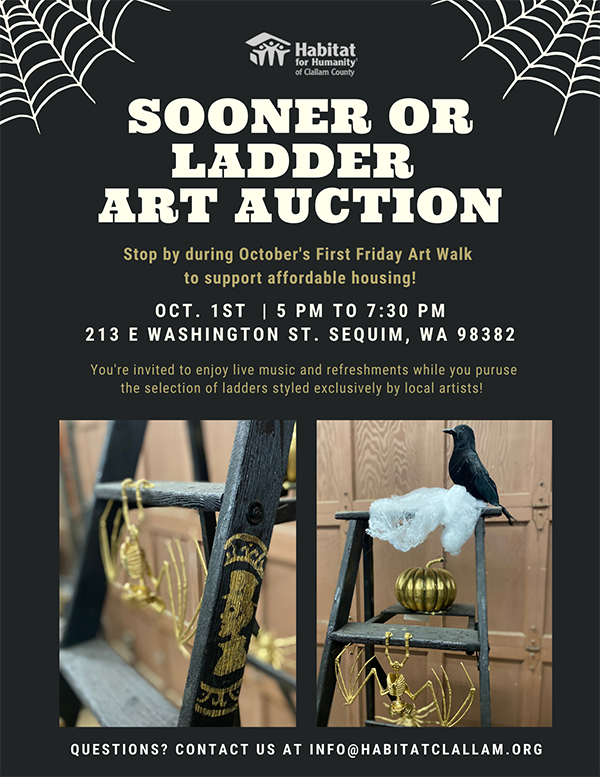 From 5:00 to 7:30 PM, Habitat for Humanity of Clallam County's Sequim Habitat Boutique Store at 213 E Washington St. is having their "Sooner or Ladder Art Auction" to support their mission of affordable housing. Admission is free! Live Music by The OG and featuring paintings by local artist and Sequim Art Council member, Craig Robinson!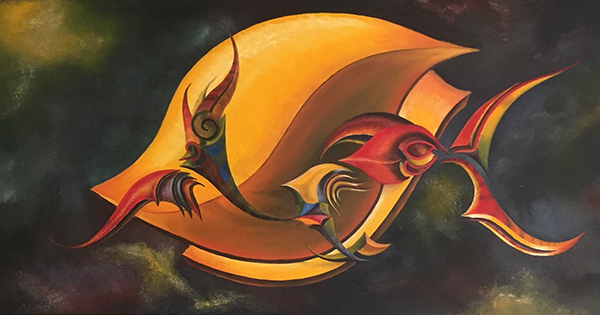 Blue Whole Gallery at 129 W Washington St. features "Season of the harvest" with Suzan Noyes and Dennis (Doc) Pangborn. Both are well-established painters, known for their artwork closely associated with nature. Members of the gallery welcome the community to the new exhibit filled with autumn color and inspiration. Suzan Noyes shares, "As an artist, I enjoy using pastels and acrylics to capture favorite subjects – like trees. If my work has you climbing some branches, shades you along a forest or river walk, or catches your eye with leafy color, I've painted the right tree for the job. Weathered bones of old vehicles and buildings also catch my eye – all those angles." Dennis (Doc) Pangborn states,"Being a recent transplant to the Pacific Northwest, I am daily struck by the beauty and diversity of the animal and plant kingdom here. Using my palette knives and brushes, I try to bring to the canvas my interpretation of God's amazing creativity. Having seen so many beautiful gardens, flowers, and lavender farms in the area, I've been inspired to dip my toes into the world of impressionist-style florals and landscapes. I also like to experiment with biomorphic shapes and multiple perspectives points in my abstract paintings."
Cedarbrook Lavender Gift Shop at 120 W Washington Street has delightful farm fresh lavender creations, treats, locally created gifts, and inspired vintage décor items.
A Stitch in Time Quilt Shoppe at 225 E Washington St. will display local quilters' work that corresponds with the monthly color theme. A Stitch in Time encourages people, if they have a quilt they made that coincides with the color designated for the Art Walk, to drop them off at their shop the day of the walk with their label and info attached to their quilt.
Kevin Tracy Wealth Management at 149 W Washington St. is displaying local watercolorists of Beverly Beighle, Connie Drysdale, Melissa Doyel, Barb Falk-Diekfuss, Wendy Goldberg, Roger Huntley, Cecilia Hillway, Allyne Lawson, Jerri Moore, Shirley Rudolf, and Carol Wilhelm.
Wind Rose Cellars at 143 W Washington St. enjoy award winning artfully crafted wines, appetizing tidbits, and hosts local artists.
Rainshadow Café at 157 West Cedar Street has lots of seating outside and inside with a full menu and drinks to enjoy.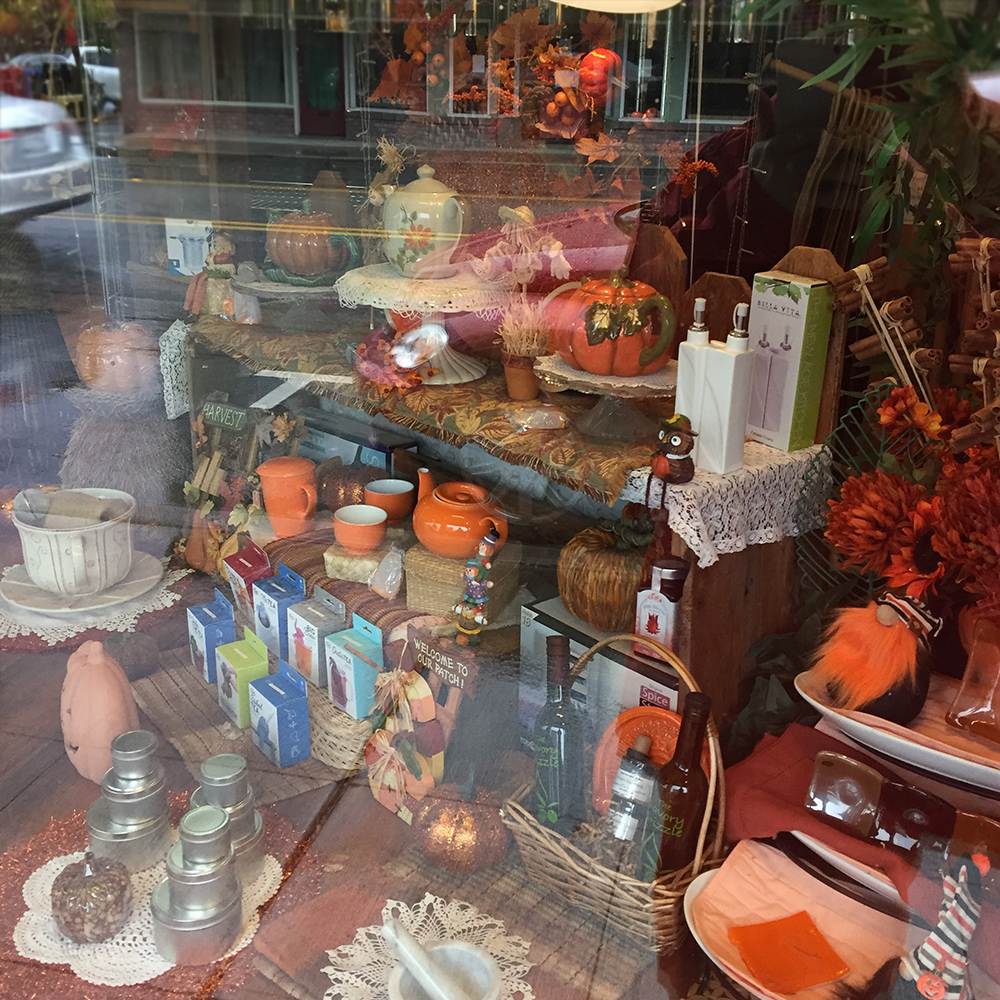 Sequim Spice and Tea at 139 W Washington St. is open until 8:00 PM with creative tea blends, colorful and fun tea pots and cups, and many more culinary gifts.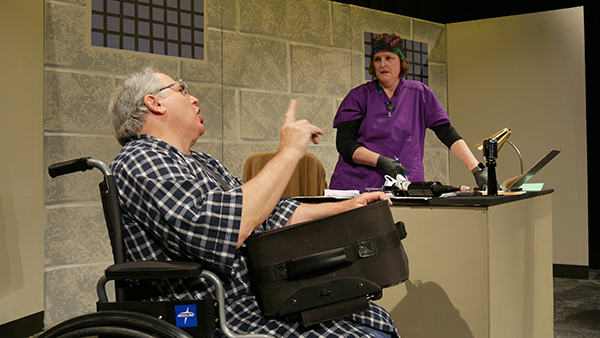 At 414 N. Sequim Ave., Olympic Theatre Arts Center's comedy production of "A Facility for Living" by Katie Forgette is set to open the community theatre's 2021-2022 Season on Friday, October 1. Proof of vaccination or a negative COVID test less than 72 hours old is required for admittance into the theatre. "To me this is sort of the exciting stage," said actress Vicki Miller. "Where everybody knows their lines, all of the blocking is done and now we're just tweaking things here and there and opening night's right around the corner."
"It's getting a little tense," said actor Joel Hoffman, playing the newly arrived Joe Taylor who rocks the boat One Flew Over the Cuckoo's Nest style. "We have to do all the tech and put it all in place but it comes together as it always does."
One of the pay's tech components is the "Squawk-Box", a disembodied voice played over the Facility's loudspeakers sardonically reminding residents of various policies and events as well as a seemingly never ending schedule of old Ronald Reagan films. Volunteer sound designer David Meissner worked with KPTZ radio DJ Brice Embree and Embree's wife Debbie to create the recordings, both of whom also volunteer at OTA.
"One reason I really wanted to do the sound design is because the squawk box is like a character itself in the show," said Meissner. "Sometimes you just hit the doorbell when it's supposed to ring once in a while and it's very important, but in this it's like you're one of the characters. It's going to be fun to participate and 'surf along' with the actors."
"It's going to be a funny show," said Meissner. "It builds to a very funny climax. And it's very timely – it pushes buttons and it's going to make people think."
"I really look forward to coming here every night," Miller said. "And not just because the show is funny, which it is, but all the different characters – they're just so endearing in their own way."
"A Facility for Living" runs from October 1st to October 17th, 2021. Performance times are Friday and Saturday at 7:30 p.m. and Sunday at 2 p.m. A Pay-What-You-Will show for any and all budgets is Thursday, October 14th at 7:30 p.m. and the first two Sunday shows offer a "Talkback" session where audiences can stay after the performance and talk with the cast and crew about the production in an open forum setting.
Tickets to this Main Stage comedy are $18 for the general public, $16 for OTA members, and $12 for students with school identification card, and are available at the theatre box office from 1-4pm, Tuesday through Friday or online at www.OlympicTheatreArts.org. For further information, call the theatre at 360-683-7326.
Want to participate as a venue or artist on the Official First Friday Art Walk Sequim Map, Listing, and Website, please contact Renne Emiko Brock at 360-460-3023 or renneemiko@gmail.com If you are an artist of any media, please get your information to Renne for publicity and opportunities. Thank you for your support!
To create inclusion between venues, artists, and audience, everyone is encouraged to participate in the Art Walk's monthly themes as a fun community activity in any creative form they wish to express it. January is silver, February is red, March is green, April is pink, May is aqua, June is white, July is purple, August is yellow, September is blue, October is orange, November is brown, and December is gold.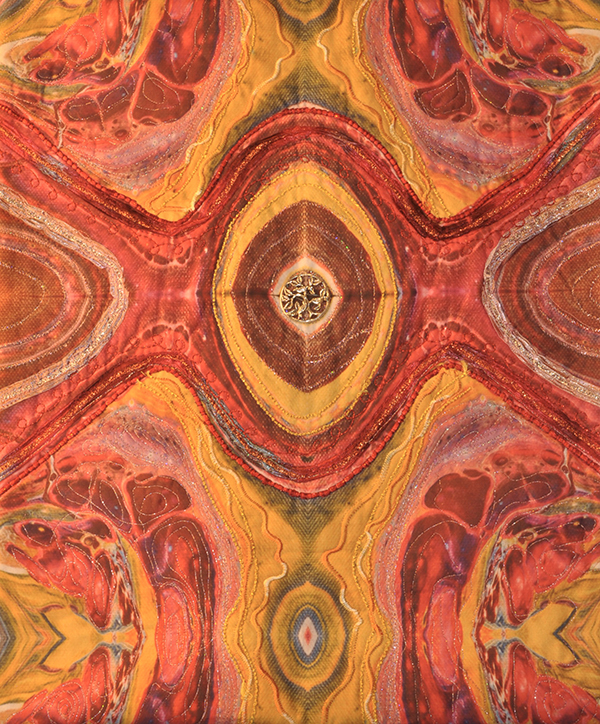 Please join our Facebook Page at facebook.com/sequimartwalk