August 4, 5 – 8 PM
Various Locations in Sequim

Like the song says, "Life can be so sweet on the sunny side of the street." Powered by that sunshine, the theme color for the August Art Walk is Yellow! Yellow shines brightly like the sun fueling our world with pure energy and encourages creative communication. The positive intensity of yellow represents joyful happiness, cheerful friendships, expressive enthusiasm, and empowers collective generosity, goodwill, and integrity.
First Friday Art Walk Sequim is a fun and free self-guided tour of local art venues in Sequim on the First Friday of every month from 5 – 8 p.m. Visit online at SequimArtWalk.com as your resource to download and print your own map, find out what special events are happening, links, and how you can be part of art. Our mission is to create approachable and accessible art and cultural venues that encourage the community to connect and celebrate expression and diversity.
This encouraging and educational arts event is sponsored and produced by unique as you / Renne Emiko Brock.
Special events for August 4: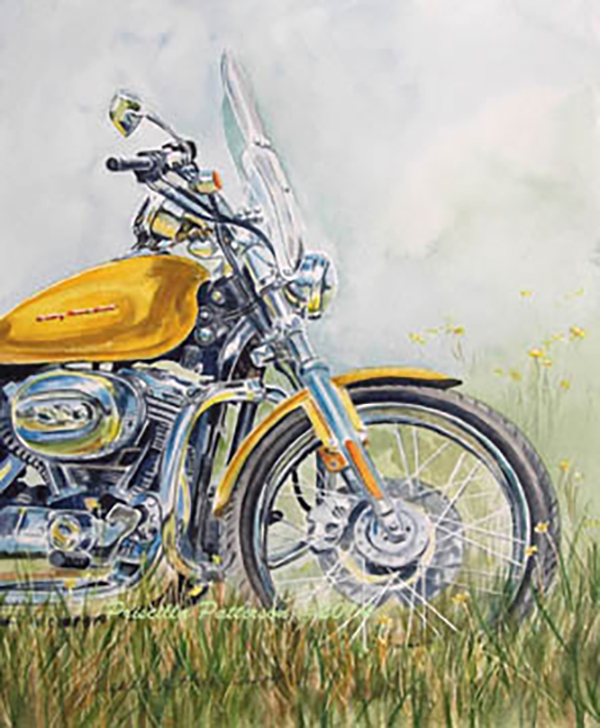 The Sequim Museum and Arts at 175 W. Cedar St. welcomes award winning artist Priscilla Patterson with "The Aviation Art of Priscilla Patterson – With a Sprinkling of Model As and Vintage Fire Engines". She paints inspiring images of airplanes, cars, motorcycles, and many other modes of transportation.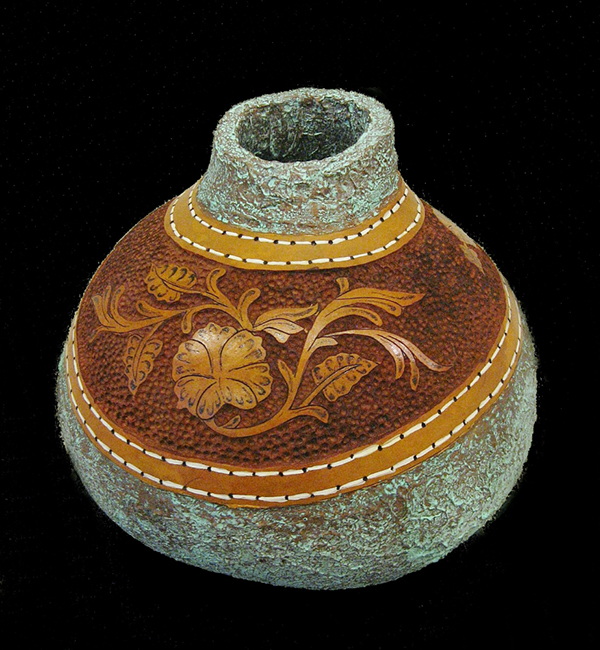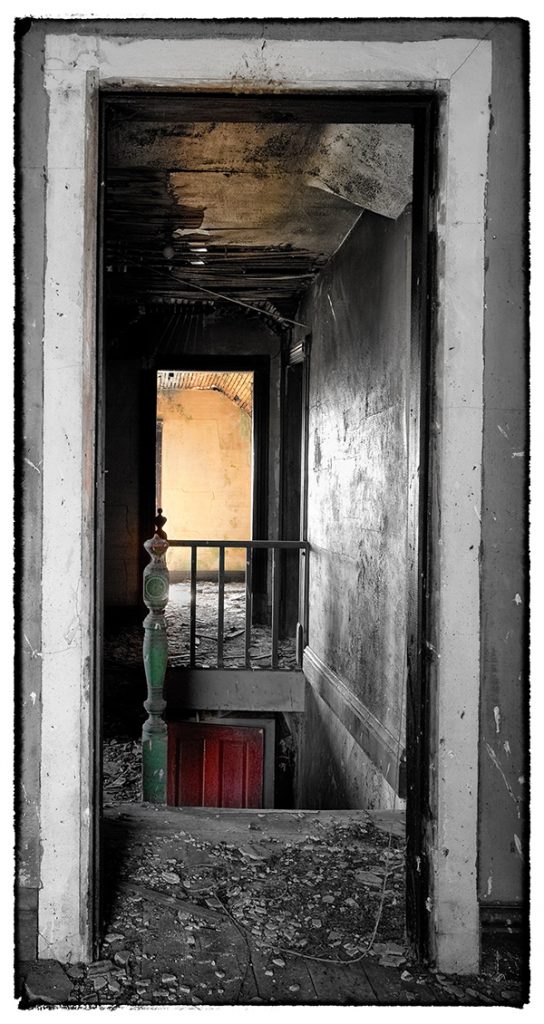 Blue Whole Gallery presents featured artists Debbie Cain a gourd artist and Karen Rozbicki Stringer a photographer.  Debbie and Karen, the two award winning artists known in their respective fields, will showcase unique work in the front windows "Visual and Emotional Reality in Depth".
Find bold, bright colors by local artists with handcrafted works and artful up-cycled items at The Bag Ladies of Sequim at 161 W Washington Street.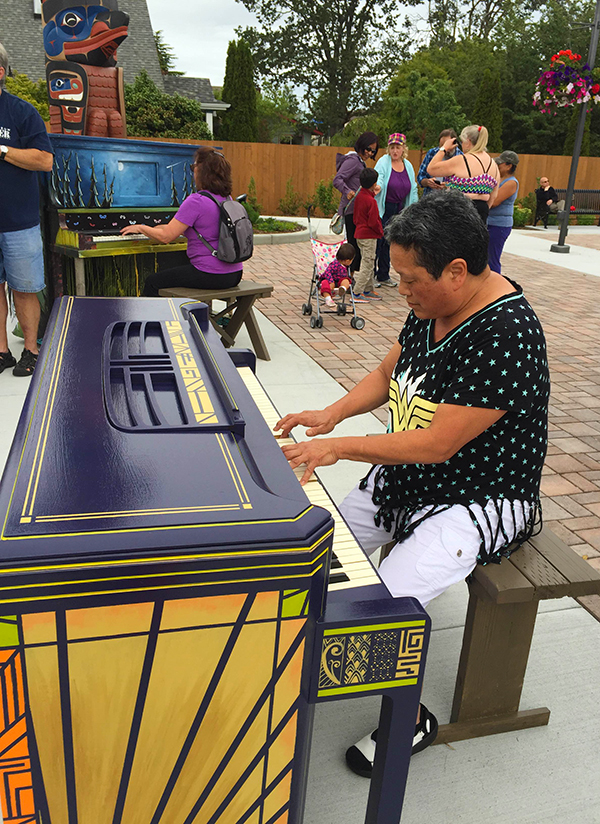 The City of Sequim and City of Sequim Arts Commission presents the Keying Around Block Party at Civic Center Plaza from 5:00 – 9:00 PM at the Sequim Civic Center at 152 W. Cedar Street. This is finale and silent auction of the three Keying Around pianos that have been visiting around town for the last month. Thanks to US Bank, Over the Fence and City of Sequim for the temporary piano shelters. There will be a street dance with music from Shaggy Sweet, 6:00 – 9:00 PM. Maggie May's food truck will be there as well as The Cedars at Dungeness providing a beer and wine garden. There will be face painting and kids bubble parade. Fun for all ages at Civic Center Plaza!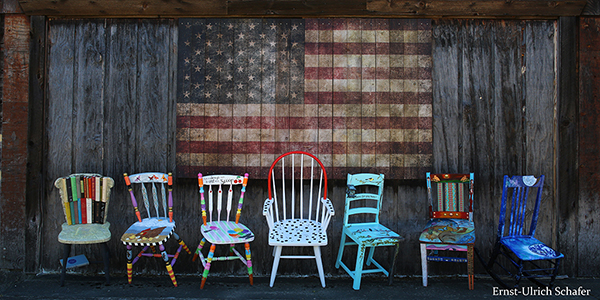 Visit the Habitat for Humanity's Fundraiser "Room For One More – Create for CHAIR-ity" Preview Reception at the Sequim Civic Center Council Chambers 5:00 to 7:00 PM. Be sure to vote for your communities People's Choice Award at the Artist Receptions.
At 5:30 PM, Becky and Jamie Kuhns are the First Friday performers in the OTA Gathering Hall at 414 N. Sequim Ave. Featuring a wide variety of entertainers and entertainment, OFF Stage (Olympic Theatre Arts First Friday) happens every month on the first Friday, during the Sequim Art Walk. There is no charge for attendance. Refreshments, including beer, wine, and light snacks will be available for purchase.
Wind Rose Cellars at 143 W Washington St. hosts live music with Hannah Hockett and Christian Jensen of Soul Machine with award winning artfully crafted wines with appetizing tidbits. Soul Machine, a local Motown cover band, includes a mixture of folk and rock in their unique acoustic set featuring contemporary arrangements of classic blues and jazz tunes as well as billboard hits from the counterculture era.
Download your First Friday Art Walk Sequim Map!
Want to participate as a venue or artist on the Official First Friday Art Walk Sequim Map, Listing, and Website, please contact Renne Emiko Brock at 360.460.3023 or renne@uniqueasyou.com If you are an artist of any media, please get your information to Renne for publicity and opportunities. Thank you!
To create inclusion between venues, artists, and audience, everyone is encouraged to participate in the Art Walk's monthly themes as a fun community activity in any creative form they wish to express it. January is silver, February is red, March is green, April is pink, May is aqua, June is white, July is purple, August is yellow, September is blue, October is orange, November is brown, and December is gold.
Please join our Facebook Page
http://www.facebook.com/sequimartwalk