August 5, 5:00 – 8:00 PM
Various Locations in Sequim
www.SequimArtWalk.com
"Leave your worry on the doorstep, Just direct your feet, On the sunny side of the street." Stroll or dance in the summer sunshine with the yellow theme color for the August Art Walk! Yellow shines brightly like the sun fueling our world with renewing energy and encourages clear, creative communication. The positive intensity of yellow represents expressive enthusiasm, joyful happiness, positive friendships, and empowers collective generosity, goodwill, and integrity. Everyone is encouraged to wear yellow or cheerful, fun apparel during the Art Walk to celebrate our Sunny Sequim!
First Friday Art Walk Sequim is a fun and free self-guided tour of local art venues in Sequim on the First Friday of every month from 5 – 8 p.m. Visit online at SequimArtWalk.com as your resource to download and print your own map, find out what special events are happening, links, and how you can be part of art.
Initiated in 2006, the First Friday Art Walk Sequim is an encouraging and educational arts event that is sponsored and produced by Renne Emiko Brock. Our mission is to create approachable and accessible art and cultural venues that encourage the community to connect and celebrate expression and diversity.
Special events for August 5: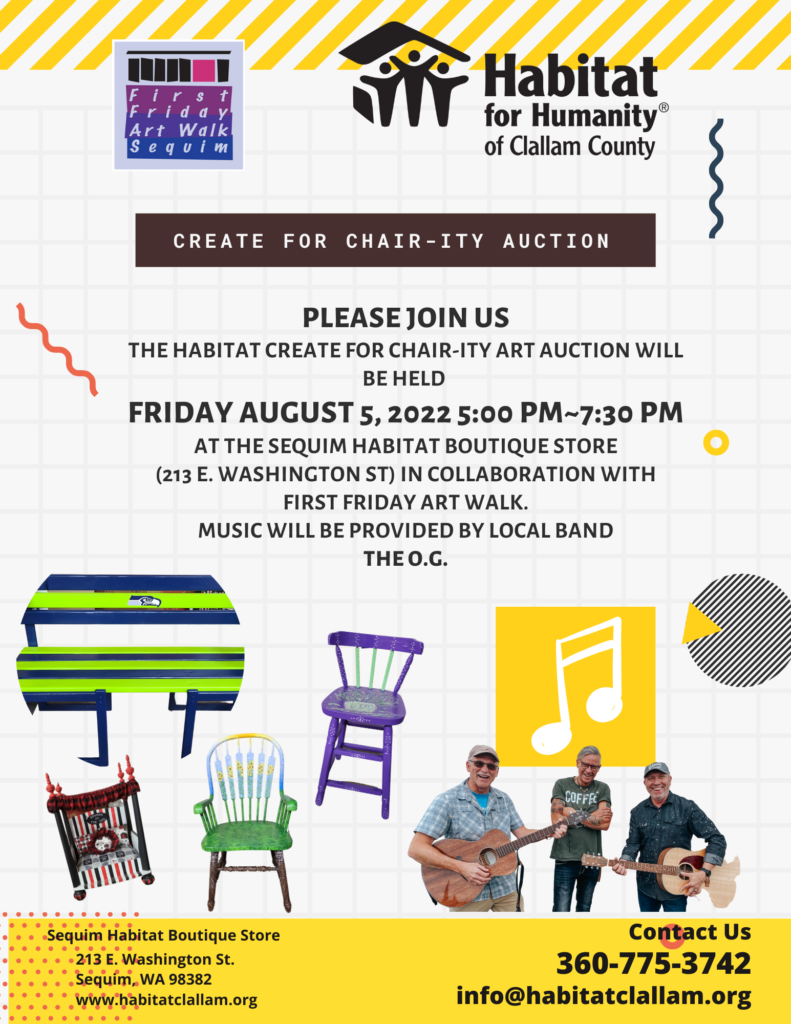 From 5:00 to 7:30 PM, Habitat for Humanity of Clallam County's Sequim Habitat Boutique Store at 213 E Washington St. has the Habitat Clallam "Create for Chair-ity" Art Auction and fabulous live music with OC! They are hosting their "Create for CHAIR-ity" Silent Auction with 16 uniquely, artistically created and designed one of kind chairs as a collaboration with First Friday Art Walk Sequim. Join the party and make a bid!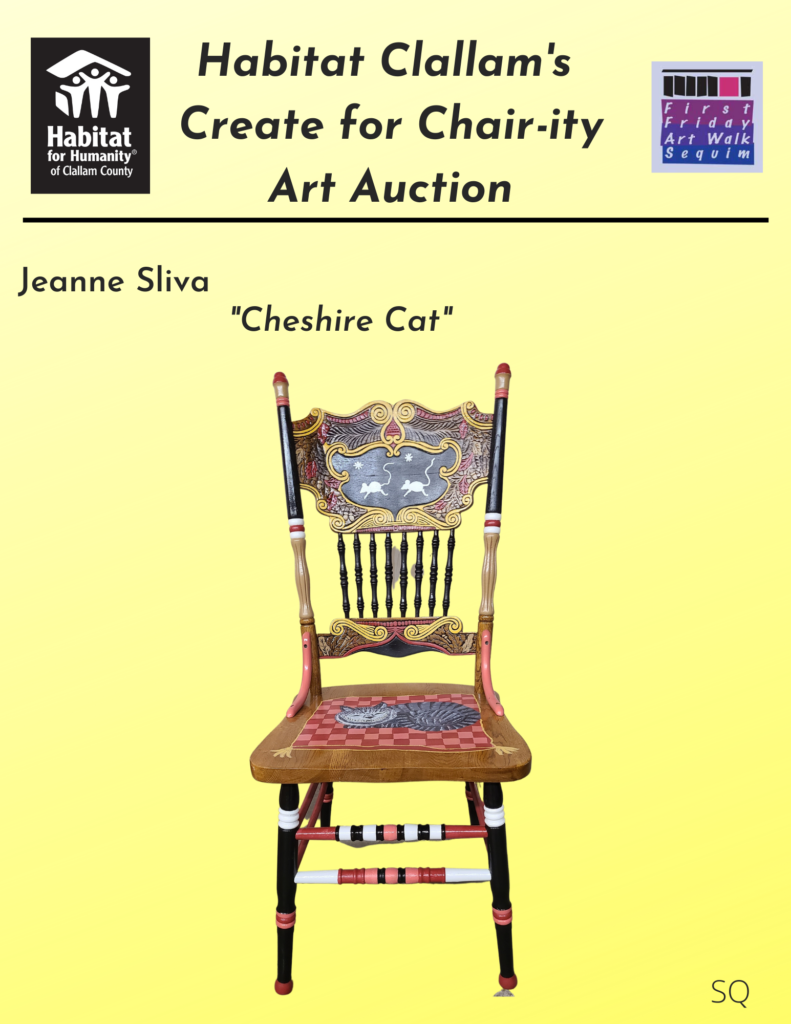 Forage Gifts & Northwest Treasures at 121 W Washington Street, Mikie Smith of Full Moon Candle is their featured artist for the month of August. She will display candle fragrances in several style options and speak on the process of candle making. Mikie with explain the collaboration in making custom candles specifically for Forage Gifts to represent Sequim. Learn from the artist directly during the Art Walk.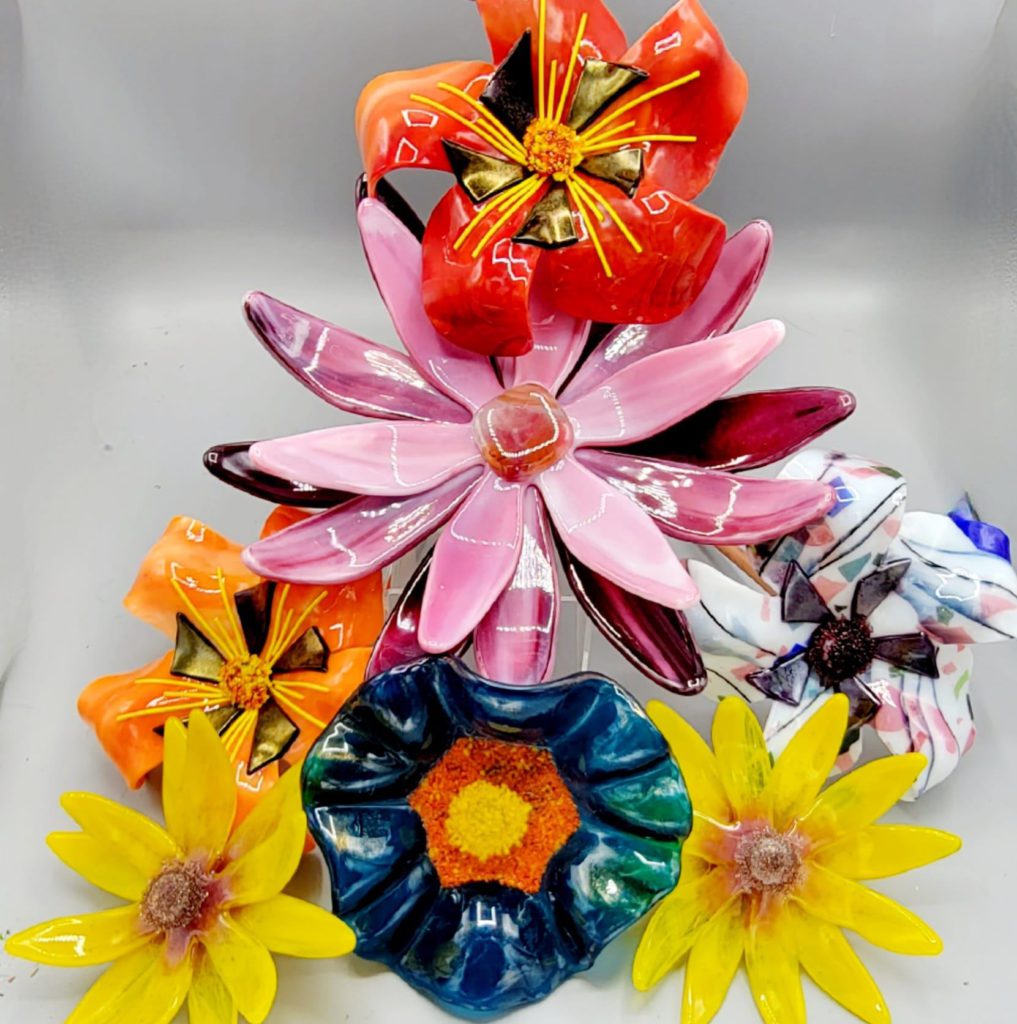 Blue Whole Gallery at 129 W Washington St. features "Joy in the world with an element of whimsy" with artists glass designer Sheri Whetstine and ceramicist Steve Wry.
Sheri Cox Whetstine states, "Since 2006 I have been exploring the possibilities glass offers, which seem limited only by my imagination. I love to tackle new ideas and try new techniques. I continue to take classes and draw upon the expertise of others willing to share their knowledge. I love how a solid, flat piece of glass can be, merely by adding heat, transformed into a thing of beauty, either by intent or chance. I love the predictable unpredictability of warm glass. I can have an idea in mind and create specifically for the desired effect, but there are sometimes things that happen in the kiln which simply cannot be controlled. I can cut pieces of glass and arrange them with a specific design in mind, or I can put lots of random pieces together and let fate decide the outcome. There may be clean, precise lines and edges, or the glass can swirl and wave into whatever pattern it will, in organized chaos. Each piece of glass is carefully thought out, designed, hand-cut, assembled, fused, then slumped or draped (bent into or over a mold). Most pieces, whether large or small, have upwards of 80 hours invested in their creation. The fusing process takes approximately 20 hours and reaches a peak temperature of 1600̊ F, depending on the process. The slumping or draping process also takes on average 14 to 20 hours, sometimes much longer. Oftentimes there are multiple tests of different colors of glass in the kiln to see how they look after firing before the final decision is made. And there are more failures than successes in the kiln. Each piece of glass is completely original as it is nearly impossible to recreate the same piece twice, no matter how hard I try! And while I do continue to produce pieces that are inspired by my imagination, I also am happy to work with clients on commissions and help bring their ideas to fruition."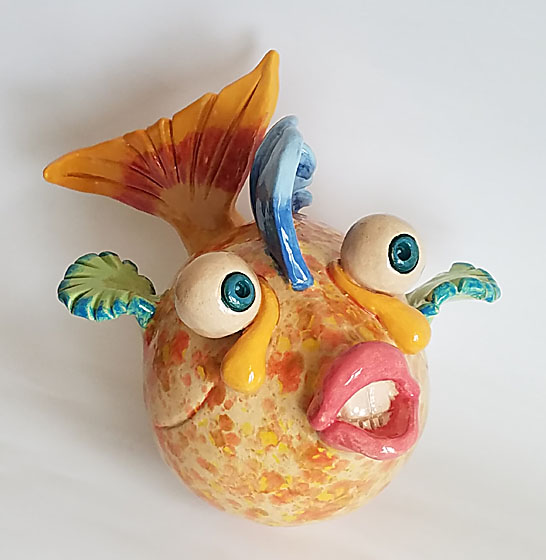 Stephen Wry shares, "As a ceramic artist, I try to express the joy in the world as I see it. I love to share my ideas about what might be out there in the world that we just are not aware of. Who knows what's out there? I try to approach each piece with an element of whimsy and a fervent desire to not take myself or my work too seriously. I work with low-fire clay and glaze as well as Raku and Salt firing. I attended California State University in Fullerton, where I majored in ceramics. I minored in Art History and graduated with a B.A. in Fine Arts."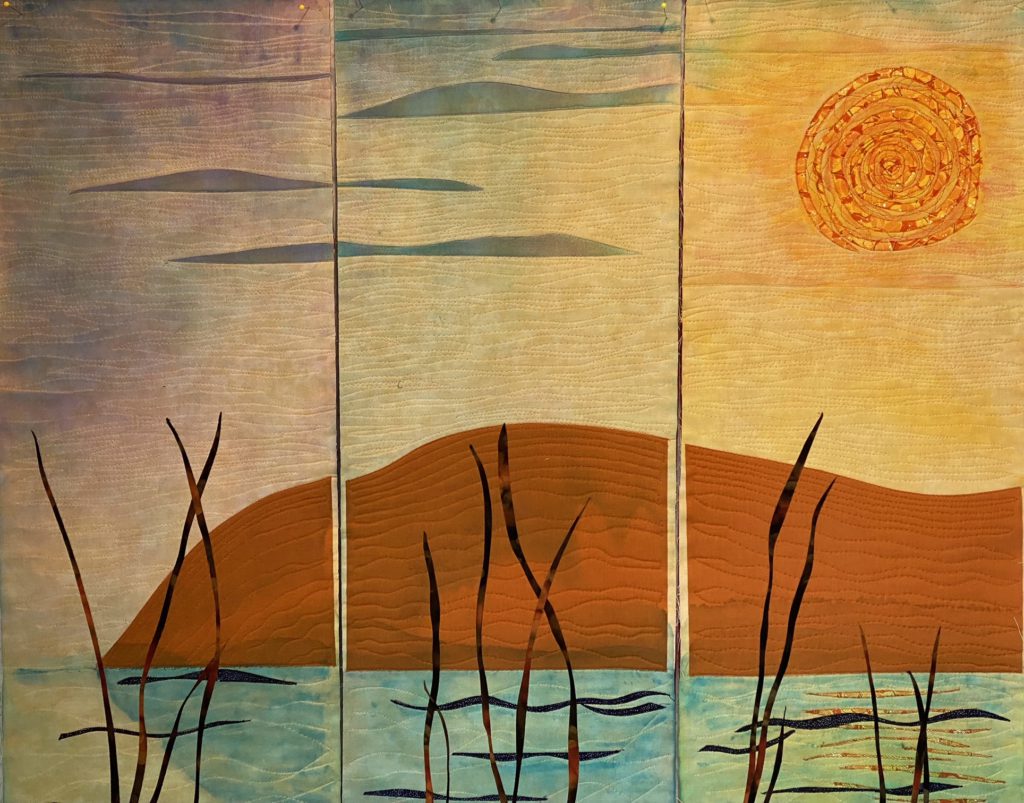 The Sequim Museum & Arts at 544 N Sequim Avenue features the Peninsula Art Quilters. Ten artists from the Peninsula Art Quilters group a sub group of Sunbonnet Sue Quilt Club will be displaying a wide variety of art quilts and dimensional works.
Olympic Theatre Arts Center at 414 N. Sequim Ave. has a performance of "The Hobbit" at 7:00 PM Friday night. Tickets available online and at the box office. "The Hobbit" is set within Tolkien's fictional universe of Middle-Earth and follows the quest of home-loving Bilbo Baggins, the titular hobbit, to win a share of the treasure guarded by the dragon, Smaug. Bilbo's journey takes him from his light-hearted, rural surroundings into more sinister and wild territory.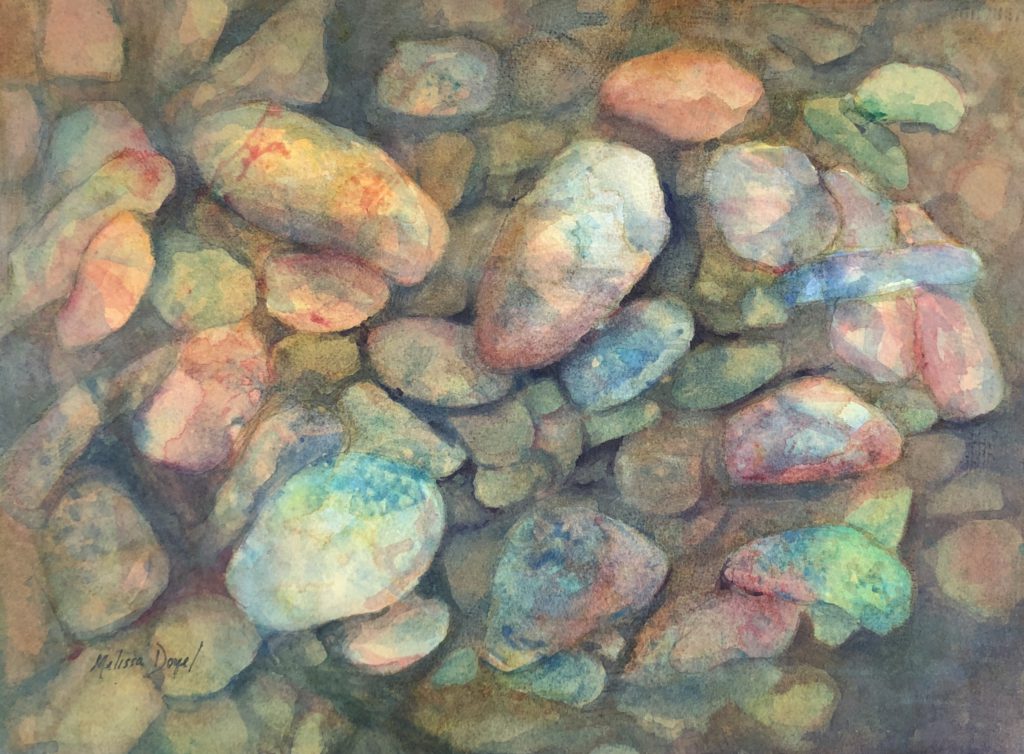 At the City of Sequim Civic Center at 152 W. Cedar Street, the City Arts Advisory Commission hosts at 5:00 to 7:00 PM the First Friday Open Music Jam. Bring your acoustic instrument and/or your voice and join us for an informal gathering of people who like to make music. Inside the Civic Center, view from 5:00 to 8:00 PM in the Karen Kuznek-Reese Gallery the juried exhibition "Pacific Northwest Wonder."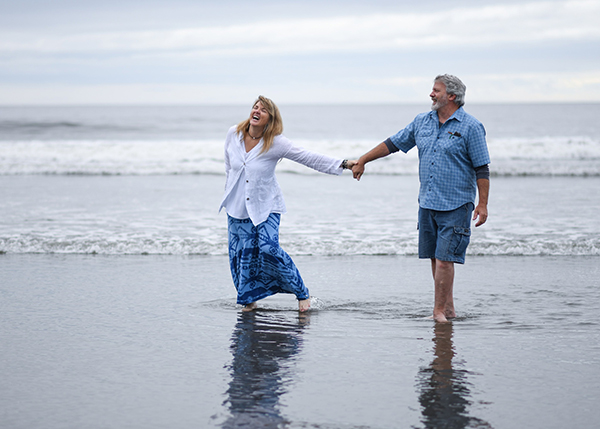 From 6:00 to 8:00 PM, Rainshadow Café at 157 West Cedar Street has live music with Dawn & Steve. Come sing your favorite songs with a full menu and drinks to enjoy. Some dancing is encouraged too.
Locally created gifts don Cedarbrook Lavender Gift Shop at 120 W Washington Street has delightful farm fresh lavender creations, treats, and inspired vintage décor items.
Sequim Spice and Tea at 139 W Washington St. has heart filled unique art including glass, pottery, illustration, and photography of local artists. You can also find artful, creative tea blends, colorful and fun tea pots and cups, and cheerful culinary gifts.
Want to participate as a venue or artist on the Official First Friday Art Walk Sequim Map, Listing, and Website, please contact Renne Emiko Brock at 360-460-3023 or renneemiko@gmail.com If you are an artist of any media, please get your information to Renne for publicity and opportunities. Thank you for your support!
To create inclusion between venues, artists, and audience, everyone is encouraged to participate in the Art Walk's monthly themes as a fun community activity in any creative form they wish to express it. January is silver, February is red, March is green, April is pink, May is aqua, June is white, July is purple, August is yellow, September is blue, October is orange, November is brown, and December is gold.
Please join our Facebook Page http://www.facebook.com/sequimartwalk
Thank you very much!