First Friday Art Walk Sequim
May 4, 5 – 8 p.m.
Various Venues in Sequim WA
The Sequim Irrigation Festival's "where water is wealth" inspires the AQUA color theme celebrating cultivation and culture during the May 4 Sequim Art Walk. The color aqua expresses responsible, sustainable elements of cool fresh water, abundant salty seas, renewing rain, and bright sunny skies. Art and music inspired by our natural resources, creativity, positive partnerships, and revolutionary ideas are included in the May First Friday Art Walk Sequim. From our inventive cultivating irrigation ditches that make our valley abundant to our future forward-thinking ideas are highlighted at the Innovative Arts and Crafts Fair. Besides wearing the color theme of Aqua, everyone is encouraged to dress up in amusing and whimsical outfits for the Irrigation Festival's "Callen Crazy Days"! And, remember it is "Star Wars" May the Fourth Be With You Day too! Always!
First Friday Art Walk Sequim is a fun and free self-guided tour of local art venues in Sequim on the First Friday of every month from 5 – 8 p.m. Visit online at www.sequimartwalk.com as your resource to download and print your own map, find out what special events are happening, links, and how you can be part of art. Our mission is to create approachable and accessible art and cultural venues that encourage the community to connect and celebrate expression and diversity.
Initiated in 2006, this encouraging and educational arts event is sponsored and produced by unique as you / Renne Emiko Brock. If you would like to participate in the First Friday Art Walk Sequim, please contact Renne directly at renne@uniqueasyou.com or through Facebook.com/sequimartwalk
Special events for May 4: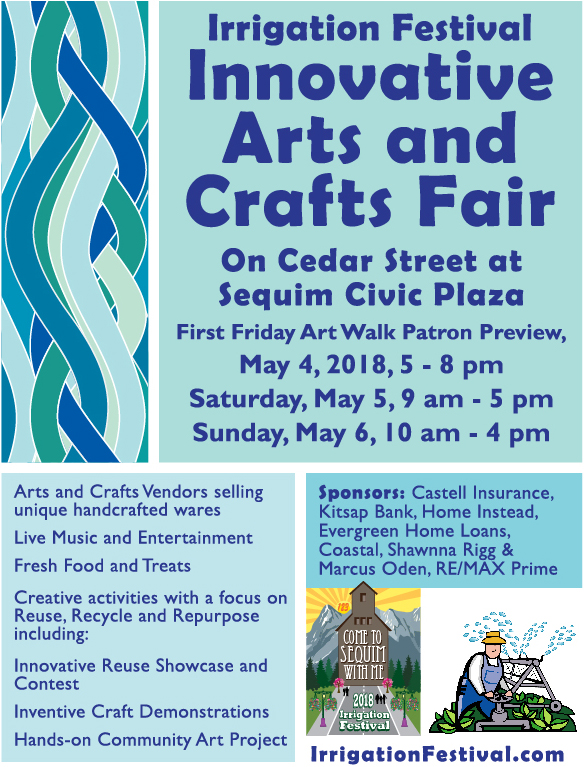 The Irrigation Festival Innovative Arts and Crafts Fair launches the First Friday Art Walk Sequim Patron Preview at the Sequim Civic Center Plaza at 152 West Cedar Street. 2018 will be the 28th year for the Arts and Crafts Fair that provides an opportunity for vendors to sell their handcrafted wares. Come participate in the Community Creativity Activity to color small parts of the 2018 Irrigation Festival logo to make a giant logo mural that will be on display at Coastal. Bring your DIY reuse, recycle, repurpose creations to win prizes on Friday night or Saturday morning! Enter to win in the People's Choice Awards in our 4 categories: Wearable, Functional, Decorative, and Kids 15 and under.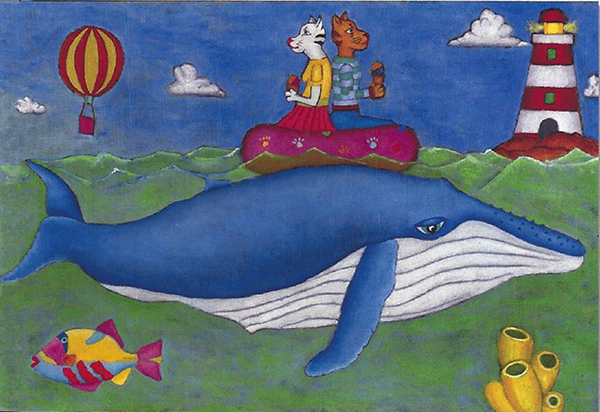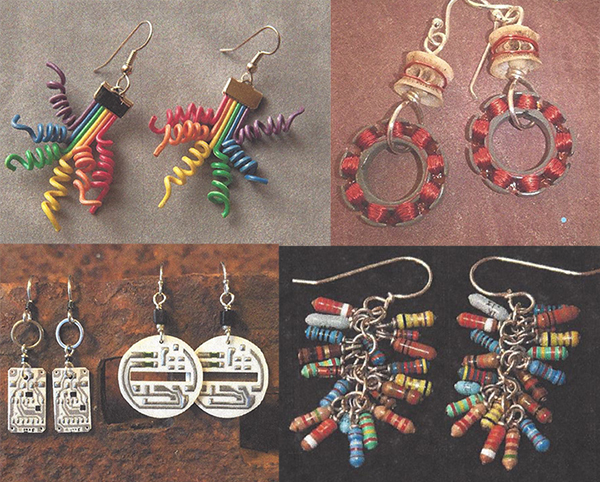 Innovative Arts and Crafts Fair vendors include 3D Wood Maps, Aloha Smoothies, Apple Cox, Art to Suit You, Cherokee Beach Creations, Creative Iron Works, LLC, Debbie's Fun & Affordable Jewelry, DJ's Pens, Enanimals, Fairview Lake Studios, Fresh Hats – Love on Your Head, Friday Harbor House of Jerky, Happy Cells Studio, hue are you?, If Found Treasurers, Lil' Log Cabin Creations, Lisa's Designs, Mickey's Unique Designs, Moments in Time and Design, Inc, Mystery Bay Coastal Cuisine, New Dungeness Light Station Association, New Dungeness Nursery, Olympic Peninsula Authors, OPT Signs, Paperwings Studio, Phoenixx Fibers, Rock and Gem Liaisons, Sharray Originals, The Chart Artist, The Jake Hose Company, The Shepherd's Fold, Transister Sister, Sassy Glass, Sequim Bee Farm, Sequim High School Class of 2019, Sequim Valley Products, Snow Creek Leather, Straus Bavarian Nuts, Uniquely Designed Jewelry, Vicki Wickell Watercolors, Volunteers in Medicine of the Olympics, Warpath Woodworks, Welfare for Animals Guild (WAG), and Whidbey Island Fudge Company.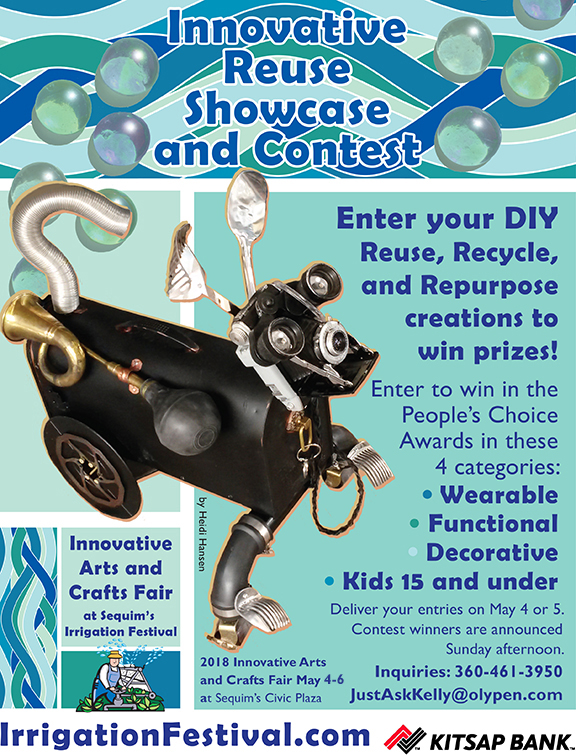 Recycle, Reuse and Repurpose are an underlying theme of the Innovative Arts and Crafts Fair which will have creative demonstrations throughout Saturday and Sunday, as well as an Innovative Reuse Showcase and Contest you can enter on Friday night and Saturday morning. Enjoy entertainment and food as well on May 5-6! Details at IrrigationFestival.com
Throughout the town, artwork created by our local students for the 2018 Irrigation Festival Button Contest will be on display at several Sequim Merchants.
In anticipation of World Accordion Day, Olympic Theatre Arts welcomes Ken Lillagore's "Accordion My Way" performance beginning at 5:30 PM located at 414 N. Sequim Ave. Ken is quick to dispel the accordion's cliché image. "When you hear 'accordion', the first thing that comes to mind is polka or Lawrence Welk," Ken says. "I don't play that music. I play the music I enjoy, like show tunes, ballads and standards." First Friday at Olympic Theatre Arts is always free to the public where the snack and beverage bar will be open.
Rainshadow Café at 157 W Cedar St. is hosting live music with Bread and Gravy from 6 to 8 PM. They will have their full menu available and some small plates paired perfectly with local wine and beer such as Camaraderie, Harbinger, and Finn River, and Port Townsend Brewery.
The Museum and Arts Center features the "A Story to Tell II – Local Sights in Watercolor" by Shirley Mercer exhibition at 175 W. Cedar St. This is the second installment of Shirley's "A Story to Tell" Series and new paintings of the Olympic Peninsula local vistas. There will be a demonstration with the artist on May 5 at 1:00 PM called "Photo to Finished Painting."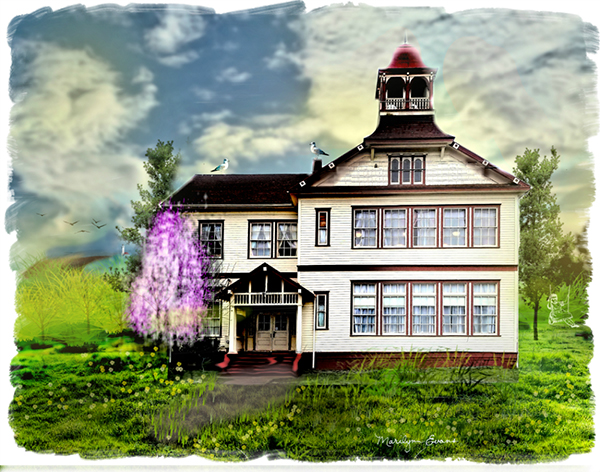 Blue Whole Gallery at 129 W Washington St. features "Shadows of the past" with digital artist Marilynn Evans. Marilynn creates emotional reality from her original photographs brushed with refined technical skills. A tapestry of beautifully composed images will lead the viewer to the shadow of the past. The gallery will also present a silent auction window by the member artists in support of the scholarship for Sequim High School students.
Forage Gifts & Northwest Treasures at 121 W Washington Street features amazing blown glass art by Megan of Molten Mama Hot Shop.
Want to participate as a venue or artist on the Official First Friday Art Walk Sequim Map, Listing, and Website, please contact Renne Emiko Brock at 360.460.3023 or renne@uniqueasyou.com If you are an artist of any media, please get your information to Renne for publicity and opportunities. Thank you!
To create inclusion between venues, artists, and audience, everyone is encouraged to participate in the Art Walk's monthly themes as a fun community activity in any creative form they wish to express it. January is silver, February is red, March is green, April is pink, May is aqua, June is white, July is purple, August is yellow, September is blue, October is orange, November is brown, and December is gold.